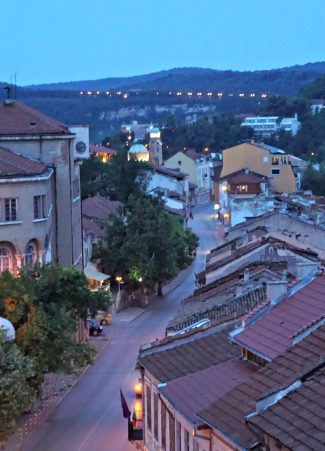 Why the Rush to Xanthi?
Originally I planned to arrive in Xanthi (Greece) on 15 June, after visiting a few days some mountain villages in Bulgaria. But as I drew closer to Xanthi and to seeing my friends there, I became impatient. Wait a second, I'm jumping to the end while there are still some tales to share with you.
After a restful and restorative visit to Brasov, Romania, I headed south towards Bulgaria. Not far from Brasov lies one of Romania's most famous places, Bran, the home of Bran Castle, better known as Dracula's Castle. Although not far, I would have loved to have travelled most of the road there by horseback or some other form of slower transportation as the mountains being passed by were absolutely magnificent. Mountains green, regal and dramatic, yet humble and welcoming, will be my last reminder of the Transylvania region in Romania.
Side roads lead to plateaus and paths where you can wander in nature without almost seeing another soul. If you do pass someone from a local village or hamlet, you can be assured they will be hospitable. They might offer a family-made palincă (Romanian term for fruit brandy) or a place to sit and chat, even if you don't speak the same language.
After passing such dramatic scenery, I was a bit disappointed when I finally arrived in Bran. Not only was Bran Castle not perched on some high-impossible-to-reach peak, it was located in a village full of tacky souvenir shops and other establishments. On my road from Brussels to Romania, this was the first place I had seen such distasteful ware on display. I was completely repelled and decided after a short stop to retake my route.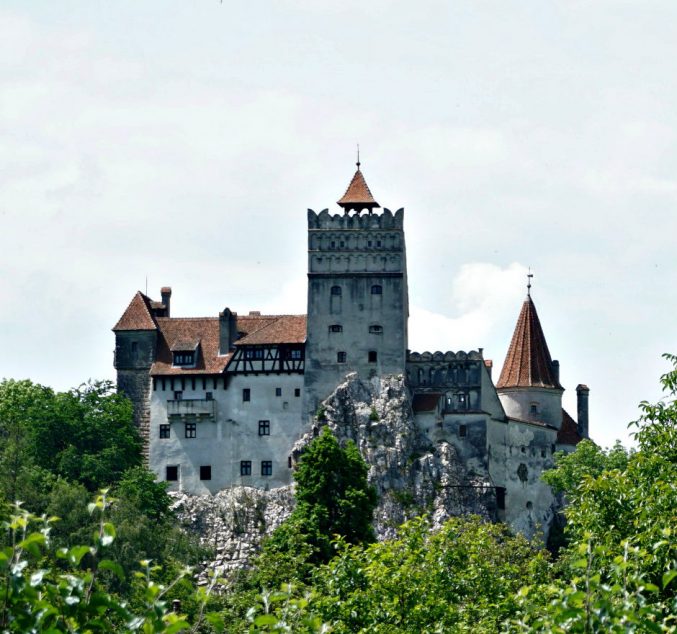 I travelled through winding roads up and over the Carpathian mountains into the plains leading towards Bucharest. The scenery in the plains was less attractive and green. To be fair, most places would have a hard time competing with the utter beauty of the Transylvania region.
Crossing the Romanian – Bulgarian Border
Travelling from Romania to Bulgaria I was not sure what changes to expect. Of course, the most obvious change is the language and use of cyrillic alphabet. In Romania, even if I could not speak the language I could understand some of the words and try to translate the menu with knowledge of French and Spanish. It was also possible to pick up some terms for future use. In Bulgaria, like in Greece, the cyrillic alphabet becomes a (surmountable) barrier, yet a challenge nevertheless.
Another change is from Catholicism to Orthodox Christianity as the primary religion. This change is purely cultural and historical, yet is noticeable in many ways as you roam around the country.
Passing the Danube Bridge border from Giurgiu, Romania to Ruse, Bulgaria requires patience these days. The Danube Bridge (formerly known as the Friendship Bridge), opened in 1954, is undergoing significant work. One lane is therefore closed, requiring traffic to alternate in each direction.
Elsewhere in Romania, I had seen mostly Romanian license plates, with perhaps a slithering of Bulgarian plates. At the border, however, there were all of a sudden cars and trucks from Russia, Ukraine, Moldova, Turkey, Czechia, and elsewhere. For the first time I was aware of being at a different kind of crossroad than I'm usually accustomed. East was meeting West, and South meeting North. Not only were families heading towards Greece and Turkey for summer holidays, but freight trucks were carrying goods for sale or export to farther destinations.
I started getting excited about the new adventures ahead. I crossed some countryside in Bulgaria that reminded me of Belgium. Lower rolling hills and stretches of farm land broken into parcels about the size you'd find in Belgium. The familiarity felt great.
A Surprisingly Charming Stop in Veliko Tarnovo
After a stretch of familiarity, I found myself again on mountain roads with gorgeous scenery everywhere. I continued to Veliko Tarnovo on the roads suggested by my not-always reliable GPS. I found myself in an ancient town built on the side of steep hills, having to manoeuvre my car along narrow two-way streets with cars parked at random on both sides. Several times I wondered if I would be able to make it through the street to my hotel or if I had made a wrong turn somewhere. Even if this was not the correct way, I had no choice but to advance, at least until a car approaches from the opposite direction!
I was thrilled to finally get into my room. And more pleased when I saw the view from my balcony!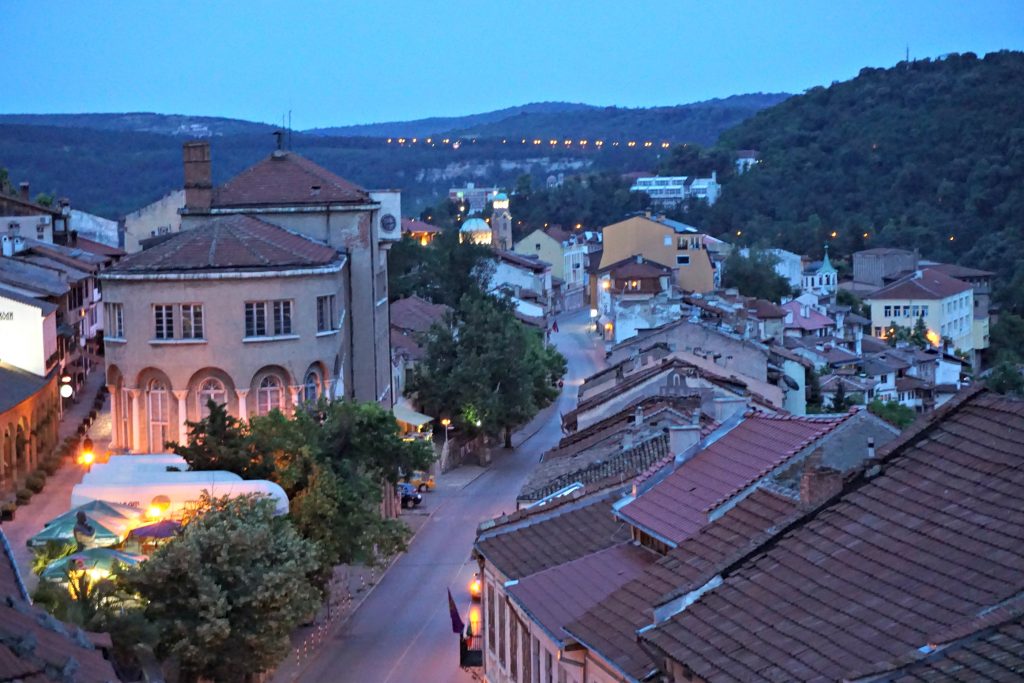 The history of Veliko Tarnovo dates back more than 5,000 years, making it one of the oldest towns in Bulgaria. It's built in the Valley of the Yantra River, with a stunning bridge crossing from one side to the other. Despite its ancient origins, most houses in the old town of Veliko Tarnovo are only 200 years old. Many buildings are made of cut stone.
I enjoyed roaming around the old town as well as along the river and the remparts of the former medieval fortress Tsarevets.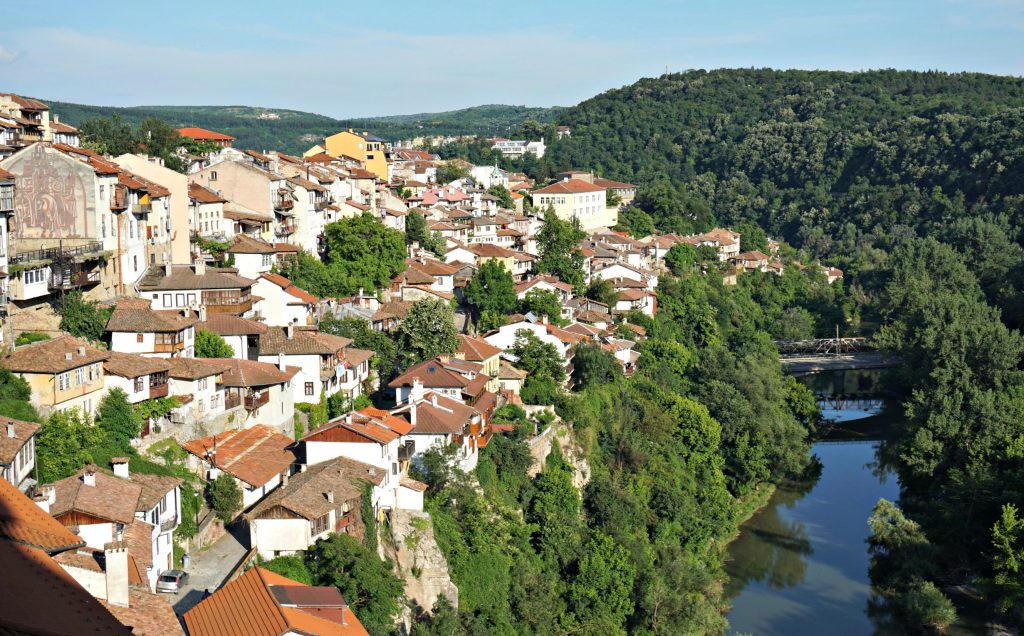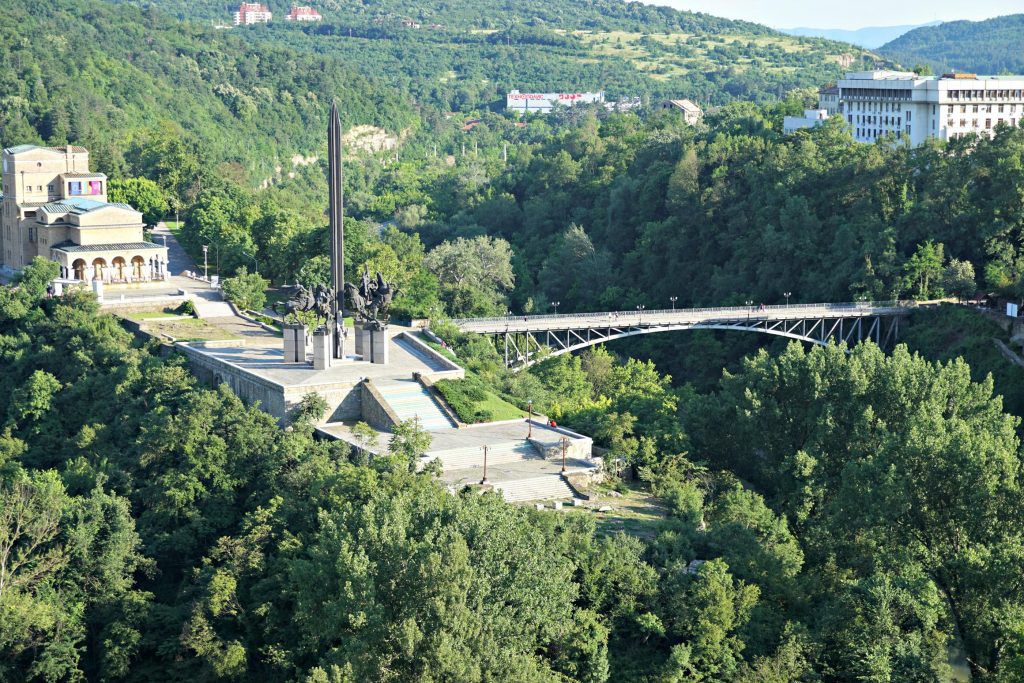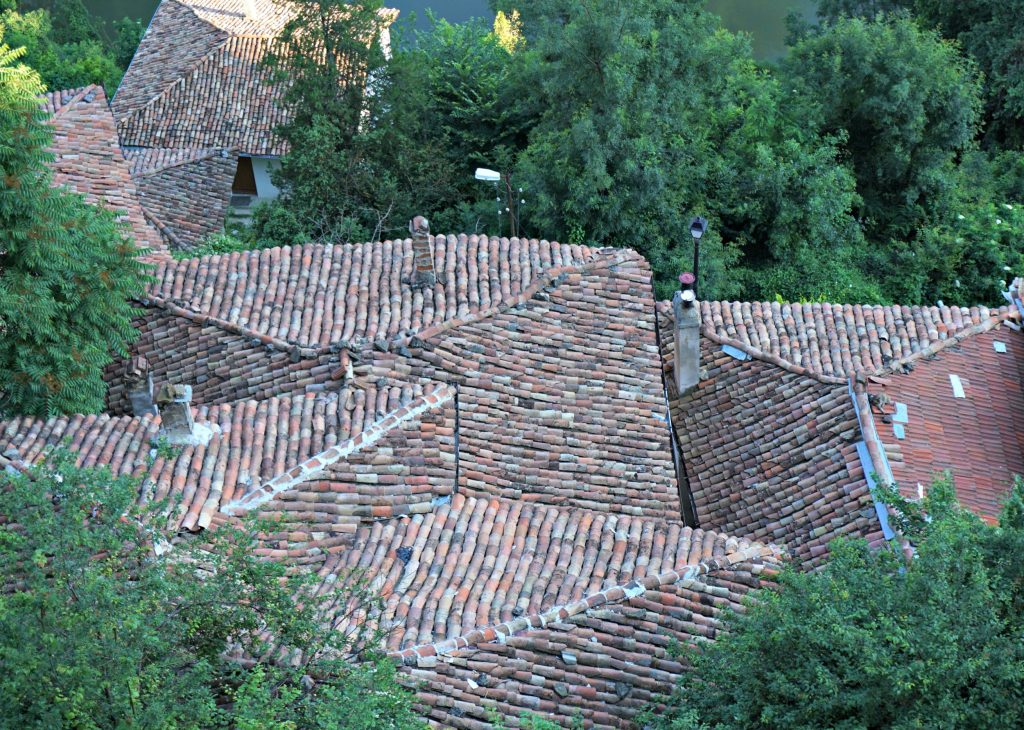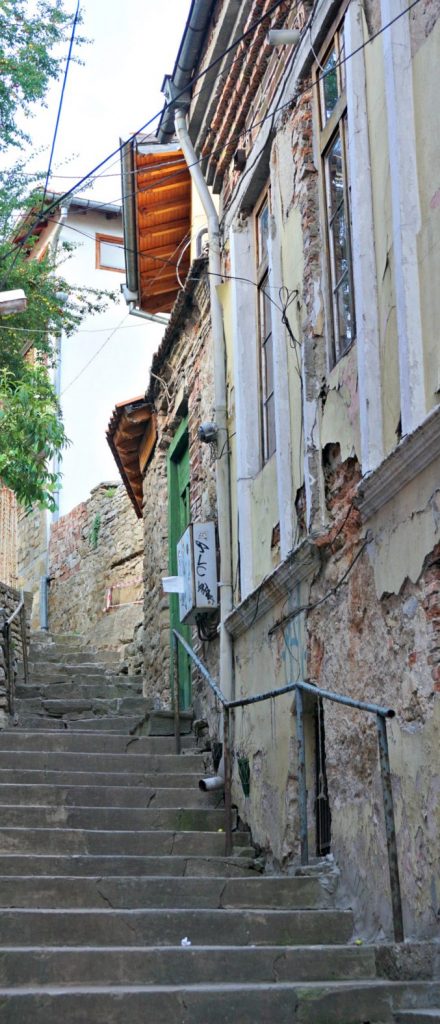 Veliko Tarnovo is located in a rustic setting with lots of options nearby for hiking and exploring. As I meandered around near the river and the town, I kept wishing I could stay longer in the area to explore. The old town itself does not require more than a day to discover. Yet, the surrounding areas deserve more time if you like nature.
Arrival in Xanthi
My stop in Veliko Tarnovo excited me about the other towns and countryside I'd visit in Bulgaria. However, now that I was only a few hours from my main destination, Xanthi, I got impatient to arrive there.
I had chosen to visit Xanthi to see a friend from my university days in Brussels, almost 25 years ago. Yes, I'm more than 25 years old! As his birthday is on 11 June, it seemed wrong to be so close and not spend his birthday with him. I wanted to see him and meet his family as soon as possible. Enough waiting. I therefore decided to go directly to Xanthi and postpone my travels in Bulgaria until after my journey in Greece.
The roads from Veliko Tarnovo to Xanthi were among my favorite: beautiful mountain roads through magnificent scenery. Surprisingly the roads were almost deserted until the Bulgarian border with Greece. Again there was an hour and a half wait at the border, but this time only passenger vehicles. Freight trucks were fortunately deviated to another border point.
Before the border, I stopped to take this photo of the scenery.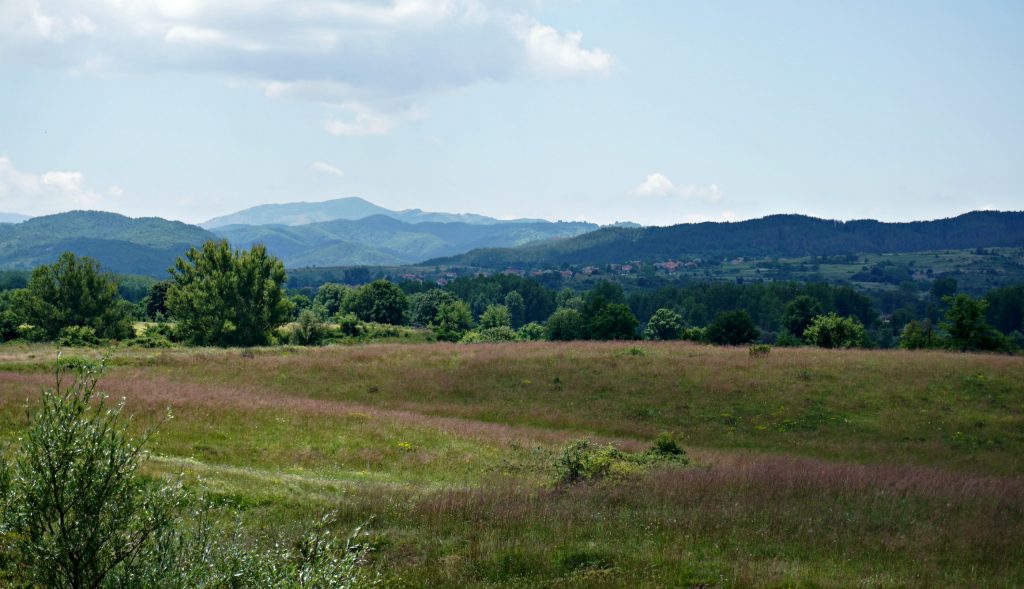 Little did I realize that Xanthi was merely on other side of the Rhodope mountains in the background of this photo. Xanthi is surrounded on one side by the Rhodope mountains. While in Xanthi, my friend and his family graciously offered me their home in Gerakas, in the foothills of the Rhodope mountains. So I'd be looking at a similar view (from the other side of the mountains) every day during my stay in Xanthi!
Without further delay I drove over the Rhodope mountains to see my friend and his lovely wife in the city center of Xanthi. We met and ate lunch at La Terra in the Cosmos Center. It was a perfect place to start catching up.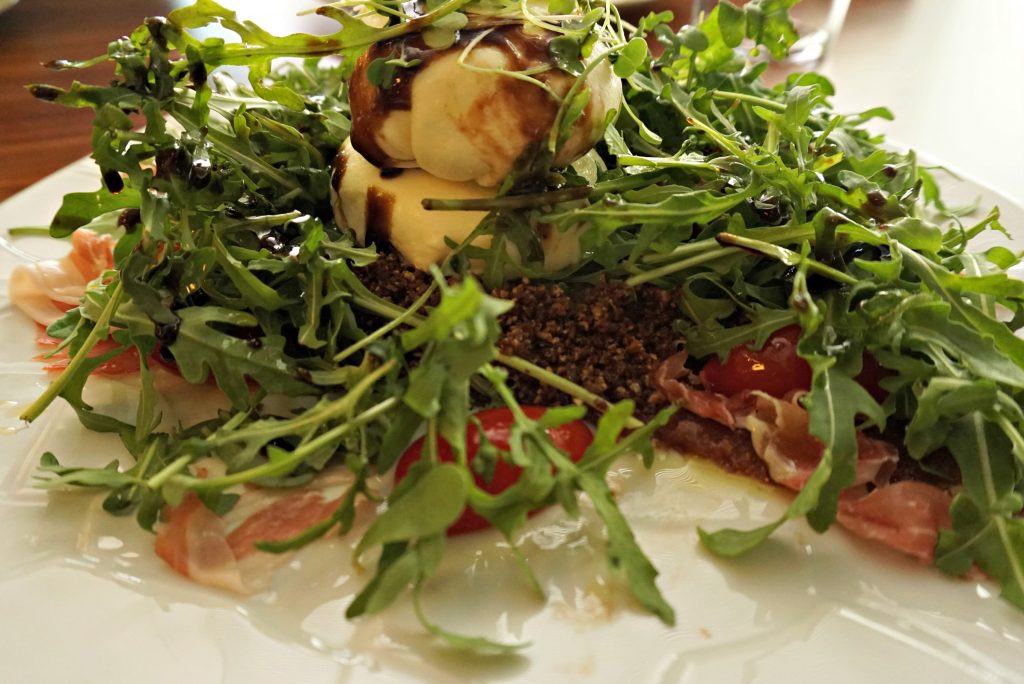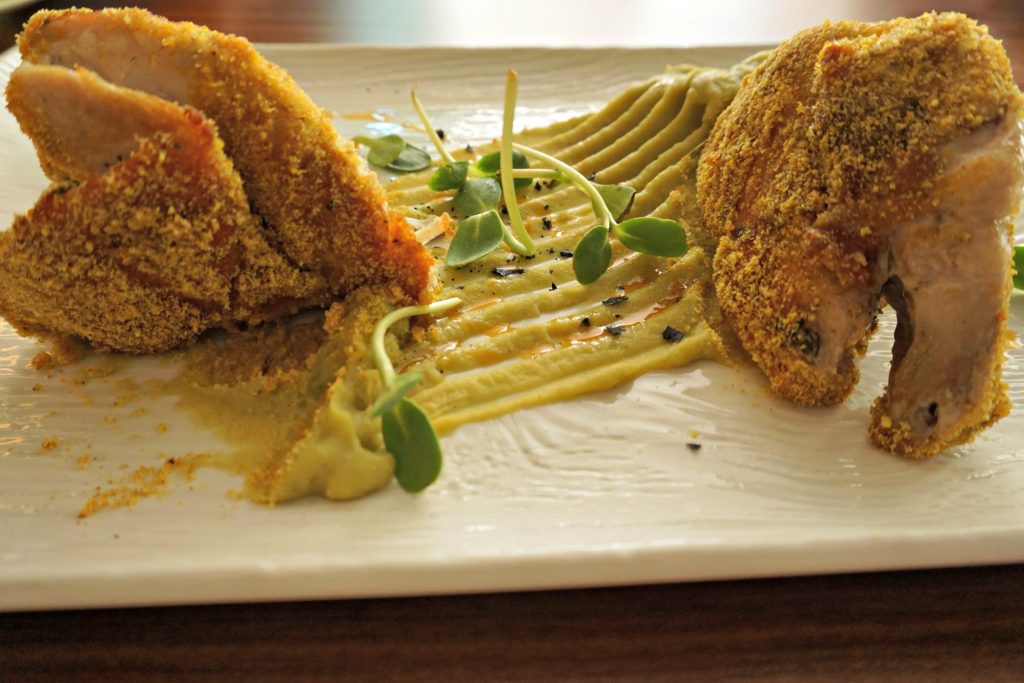 In the evening we went to Musutu, one of my friends' favorite restaurants to celebrate his birthday. Read my review of Musutu by following this link.
You will have to be patient to read my next segment of my Journey to Greece to discover more about my adventures in Xanthi! Stay tuned and bring your friends for the ride.