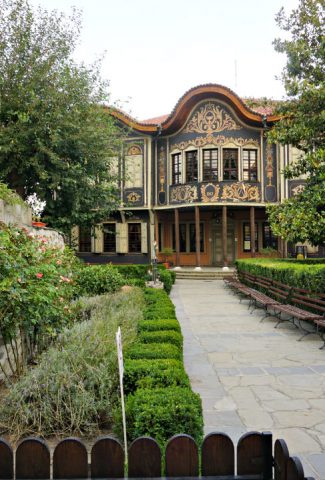 Saying Good-bye to Xanthi
Two weeks ago I left Xanthi, the main destination of my Journey to Greece, to head back up north to Belgium. I was sad to be returning towards ordinary life instead of continuing to wander wherever the wind blew me, so to speak. Ok, it would take quite a gale to blow me in one direction! But you understand my point.
Even though I still had one month to travel from Xanthi to Brussels, the remorse was hard to shake off. I immensely enjoyed visiting Xanthi, which I believe will always have a special place in my heart. I am preparing a separate post on my time in Xanthi with lots of photos to share with you. In the meantime, please read Eating Out in Xanthi – A Personal Guide for a description of Xanthi's food culture.
I took baby steps leaving Xanthi. For those of you just joining my Journey to Greece, Xanthi is on the southern side of the Rhodope mountains which separate Greece from Bulgaria, at least in this part of both countries. So I packed my car and travelled a couple hours to Plovdiv, Bulgaria, on the other side of the Rhodope mountains. The views while driving over the mountains were breathtakingly beautiful. New moments of awe around each turn as I drove along on the winding roads up and down the mountains.
Two-Day Stop in Plovdiv, Bulgaria
What to See in Plovdiv
Plovdiv, Bulgaria's second largest city, lies in a plain with the Rhodope mountains in the distance in the south with other mountain ranges in the north and east. Essentially in the center of Bulgaria, Plovdiv has continuously been a populated settlement since the end of the 4th century BC, making it one of the world's oldest cities and Europe's oldest continuously-settled city. Believe it or not, Plovdiv is older than Athens, Rome and other cities people might generally think of as Europe's most ancient cities.
Walking around in the old town of Plovdiv you see magnificent evidence of Rome's former rule in this city. Although the Romans were not the first to settle or rule in Plovdiv, they left behind impressive monuments to their presence there. The city has done a great job at restoring many of these ruins and integrating them into the town so everyone can enjoy them as part of their everyday life in Plovdiv. Surprisingly several of these ruins were only discovered in the past 50 to 100 years (or as my tour guide said "in the 70s of the last century").
I loved exploring the main pedestrian area in the lower part of the old town of Plovdiv: people strolling, eating and enjoying the summer weather in the late afternoon. The hillier side of the old town is more shaded and residential. It offers a moment of repose from the city as well as magnificent panoramic views from the top of the hill (one of Plovdiv's original seven hills).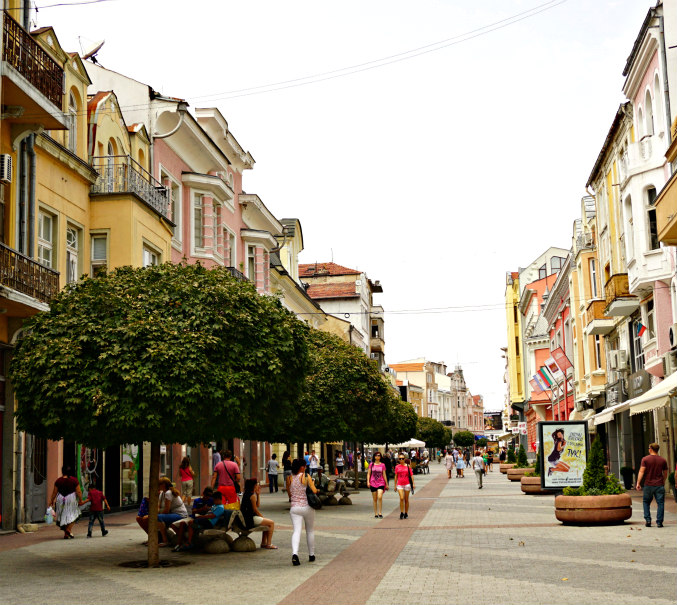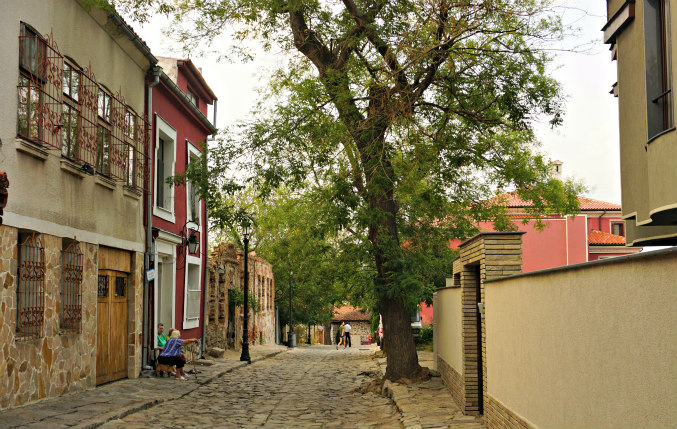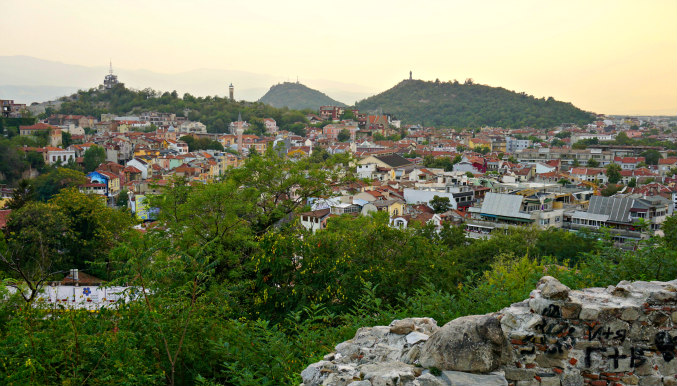 Two nights in Plovdiv was the right amount of time for a visit at a leisurely pace. Plovdiv has been selected as European Capital of Culture for 2019 so perhaps it's time you went to visit.
Food in Plovdiv
The food scene in Plovdiv seems dominated by fast food. McDonalds, KFC, Burger King and Alex Foods, along with several other doner or pizza places, attract many of the passerbys. Of course, restaurants exist in the old town but few of them really appealed to me. Only one restaurant I visited is worthy of your attention.
Pavaj
I had a wonderful lunch on my second day at Pavaj technically in Kapana (The Trap) section of Plovdiv, which is pretty much blended into the old town. Pavaj is located on a quiet street featuring many artistic-type shops. In front, it has a pleasant eating area outside, which is busy from noon until closing around 11 pm.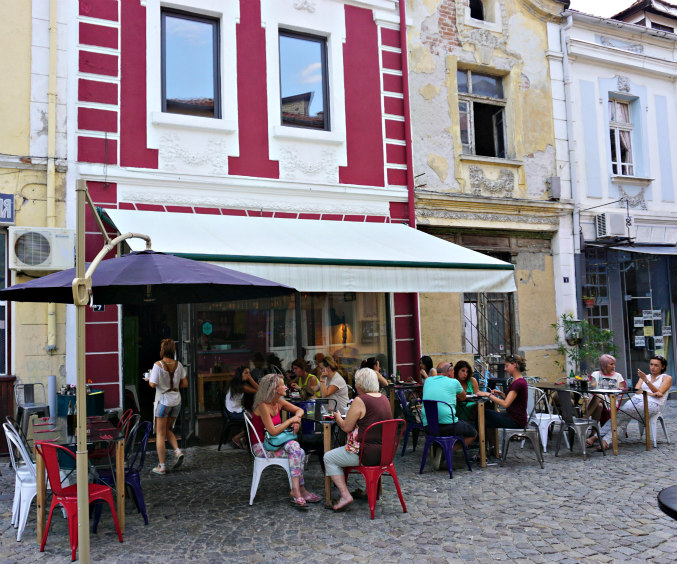 Pavaj is known for its Pickled Pork Ribs, and for good reason I discovered. The ribs were super tender with an excellent combination of sweet, sour and spicy flavors.
I finished my meal with Carrot Cake with Raspberries. The Carrot Cake was delightful, yet could have been made more tasty with a little lemon zest in the icing and more spices in the cake. It was a bit bland for my taste. Reducing the spices in the cake might, however, have been intentional to accommodate local preferences.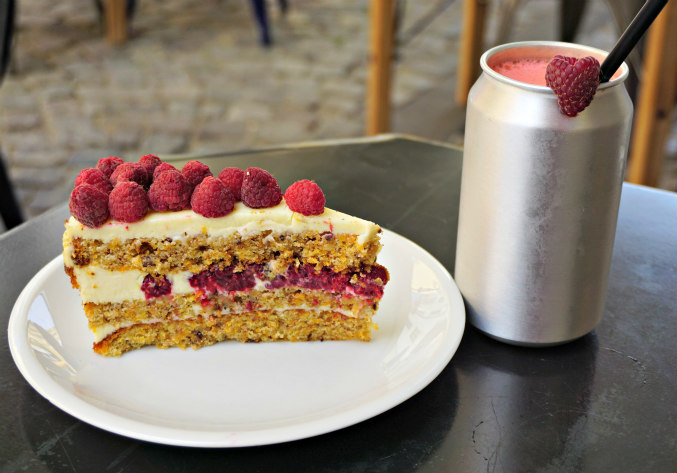 I also enjoyed two homemade lemonades: one ordinary lemonade and the second with fresh raspberries. The ordinary lemonade was even better than most lemonades I've ordered this summer. Somehow it tasted less sweet and more refreshing.
Pavaj would definitely be one of my regular hangouts if I lived in Plovdiv. The menu features lots of local traditional dishes as well as some international ones, all prepared with quality ingredients and care. The service is also very friendly.
Four-Day Weekend in Sofia
After Plovdiv, I travelled a couple hours west to Sofia, the capital of Bulgaria. Sofia is nestled by Vitosha mountain beyond the Plovdiv plains. Vitosha mountain unfortunately captures the smog and keeps it hanging over the city's horizon.
I enjoyed four days in an apartment in the center of Sofia, within walking distance to almost everything. Each day I wandered around the old town, seeing the sights and trying out various restaurants and cafes. I frequently revisited neighborhoods or streets already passed, yet did not mind since I preferred getting to know the city at a relaxing pace.
After going around in circles a bit a day or so, I realized that Sofia does not have a central square like many other European cities. Often when travelling, I will start at the central square and then branch out in all directions from there. The absence of a central square made me feel a little disoriented, as I kept seeking a reference point.
The pedestrian part of Vitosha Boulevard and the National Palace of Culture nearby somewhat fill the role of a central square. Day and night hordes of locals stroll and relax on Vitosha Boulevard. Amazingly, this boulevard considered by many to be the heart of the city was only made pedestrian about ten years ago as a result of the renovation of Sofia's public transportation system. The National Palace of Culture covers a large open space, much of it a park with fountains ideal for sitting on a bench, strolling or sipping a drink at one of its cafes.
Food in Sofia
Sofia has definitely more restaurants than Plovdiv, which is understandable given Sofia's size. Many of the popular and more trendy restaurants seem to be concentrated in the streets surrounding the pedestrian part of Vitosha Boulevard.
Three places deserve special mention here.
Bistro Pesto
On "Angel Kanchev" ulitsa and "Hristo Belchev" ulitsa (parallel to each other and to Vitosha Boulevard) several good restaurants are located. For lunch on my second day I was attracted to a small charming place called Bistro Pesto.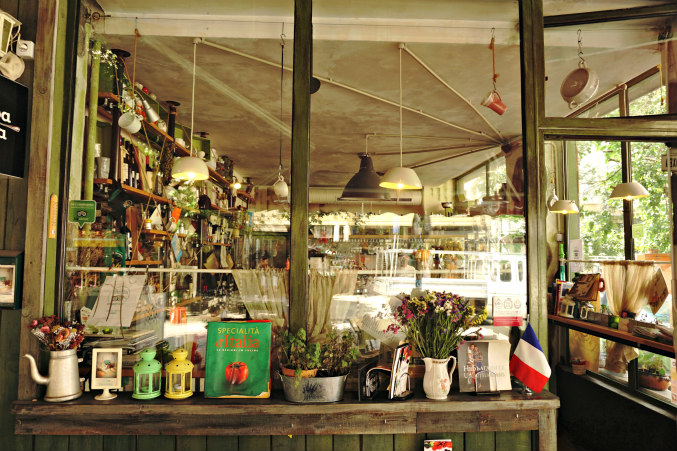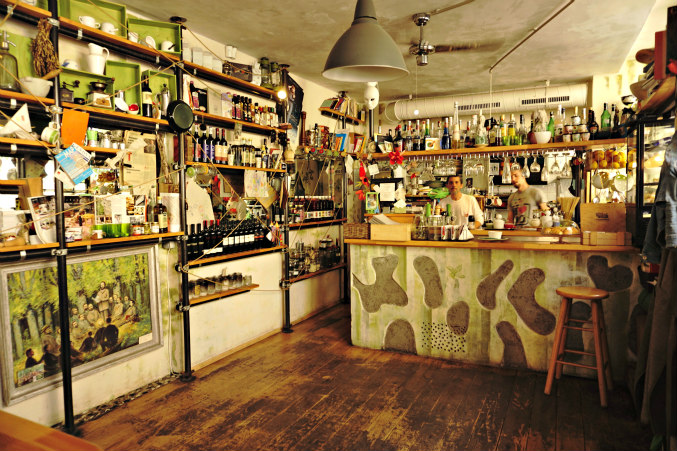 From the moment I walked in until I shook hands with the owner to say good-bye the service was excellent, warm and extremely customer-centered.
Bistro Pesto is known especially for its huge list of yummy panini. Yet, it also has an impressive choice of salads and pastas. I ordered the tortellini with a tomato-beef sauce (ragu), which definitely satisfied my appetite.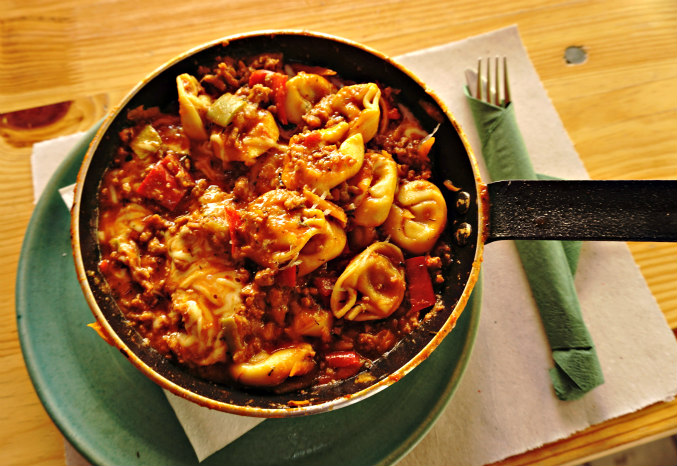 Mario, the owner, came from Genoa, Italy a few years ago and started this restaurant at the beginning of 2014. You can feel that he's put his heart and soul in Bistro Pesto and in assuring quality in all aspects. From a tiny kitchen he and another cook prepare all the meals. I recommend you to eat at Bistro Pesto for lunch and say hello to Mario for me.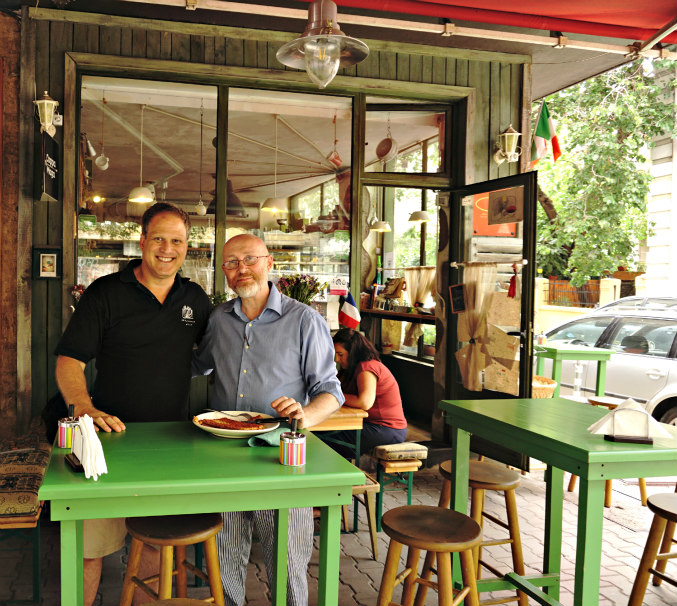 La Bottega all'Angolo
As I strolled around the city, I kept finding myself back in front of this very attractive restaurant, La Bottega all'Angolo. It's located on "William Gladstone" ulitsa, in the same restaurant area described above around Vitosha Boulevard. La Bottega all'Angolo has large open windows giving you a clear view of it warm decor and wall full of wine bottles.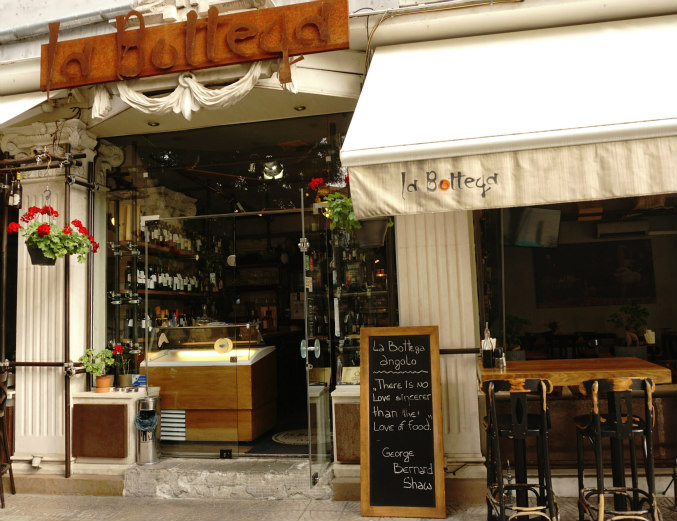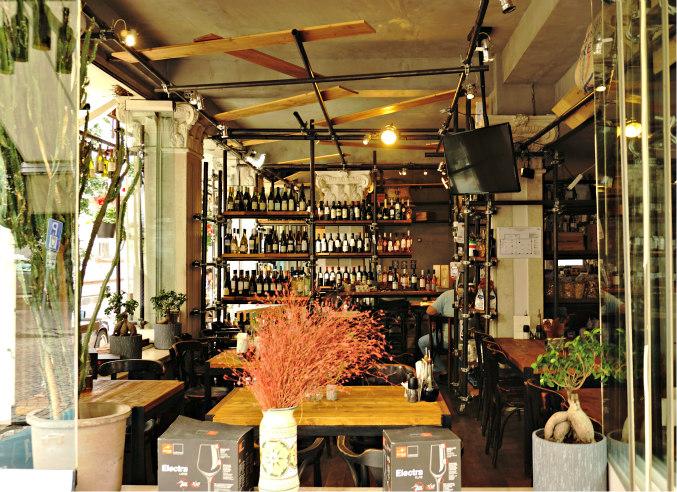 My first night in Sofia, couples and groups of friends sat at tables on the sidewalk in front of the restaurant as well as inside. I wanted to join them at the table and partake in their camaraderie.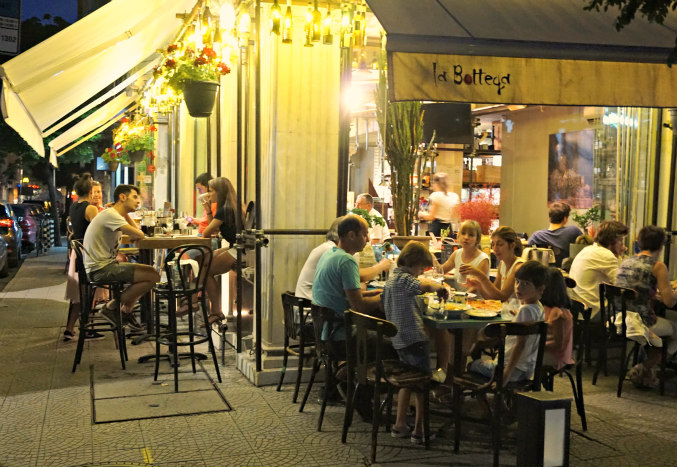 Another time passing by in the afternoon I stopped in for a lemonade and a place to write a bit. Then on Sunday afternoon for my birthday I chose to come here for lunch. I kept thinking of finding a restaurant featuring local cuisine, yet my mind and heart kept bringing me back to La Bottega all'Angolo.
La Bottega all'Angolo has a large menu as well as a separate seasonal menu. It even has a bio (organic) section featuring of course dishes using organic ingredients. I loved that the menu had a good mix of creative new and traditional dishes. It also has an impressive selection of wines, with 120 labels of Italian wine.
I ordered a whole-wheat pizza with arugula, mini tomatoes and prosciutto, one of my favorite combinations. It is extremely rare in Europe (anywhere in Europe) that you will have a choice between white and whole-wheat pizza crust. I was therefore super excited to have whole-wheat crust.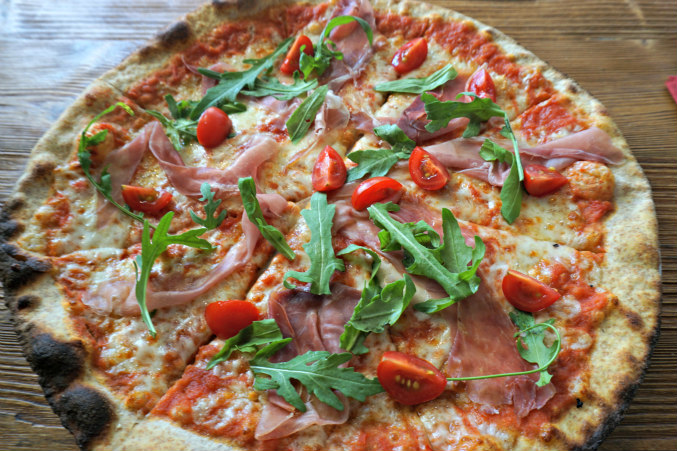 For dessert I had three scoops of homemade ice cream. Yum yum!
After being drawn to this charming Italian restaurant for four days and now enjoying a lovely lunch there, I was shocked that the owner – chef, Lubomir Kurtev, is Bulgarian and has never spent significant time in Italy! You would never guess, especially since many dishes are refreshed versions of traditional Italian dishes. Bravo Lubomir!
The Cafe With No Name
One hot afternoon, I stopped for a dessert at a cafe across from the courthouse building at the top of the pedestrian part of Vitosha Boulevard. It had several tempting desserts in the window. I had to go in and try one.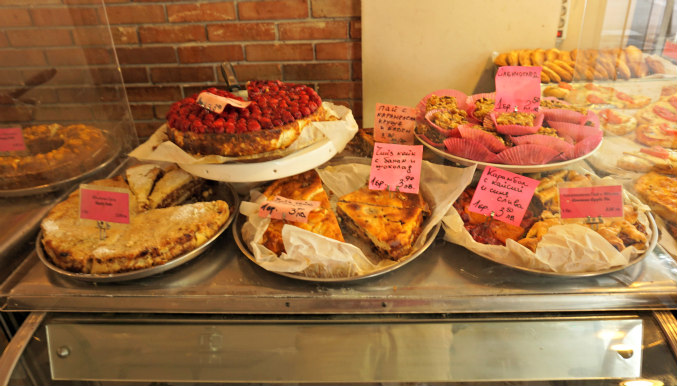 The choice proved much harder than expected. Several cakes seemed to be calling my name. Chocolate cake, apple cake, cheese cake, cookies, among others. I ultimately selected a slice of one of their cheesecakes. It was so delicious that I had to look again at the dessert selection and see if something else could tempt me.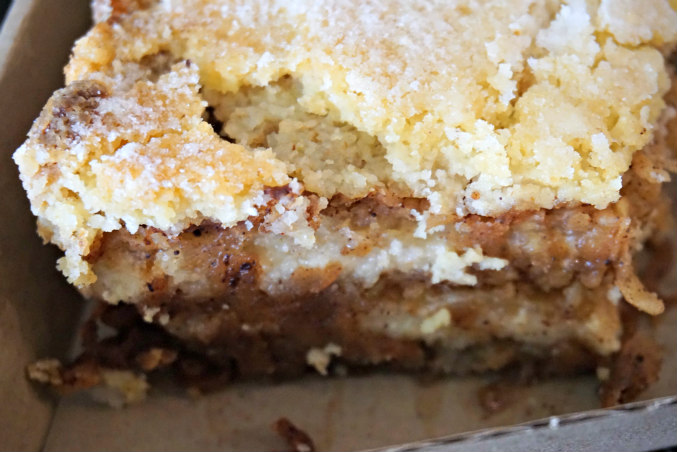 I hesitated between chocolate and apple cake. I opted for the apple cake, which was absolutely fabulous! It was three layers of a soft crumble layer cake with a chunky apple cinnamon mixture between each layer of cake. The crumb on top gave a slight crunchiness which was a nice final touch. I will have to try to re-create this cake at home! Of course, I will share the recipe if I do.
As I left the cafe, I went to take a photo outside. I noticed there was not any name on the facade. When I asked inside the name of the cafe so I could mention it, they simply responded "it has no name".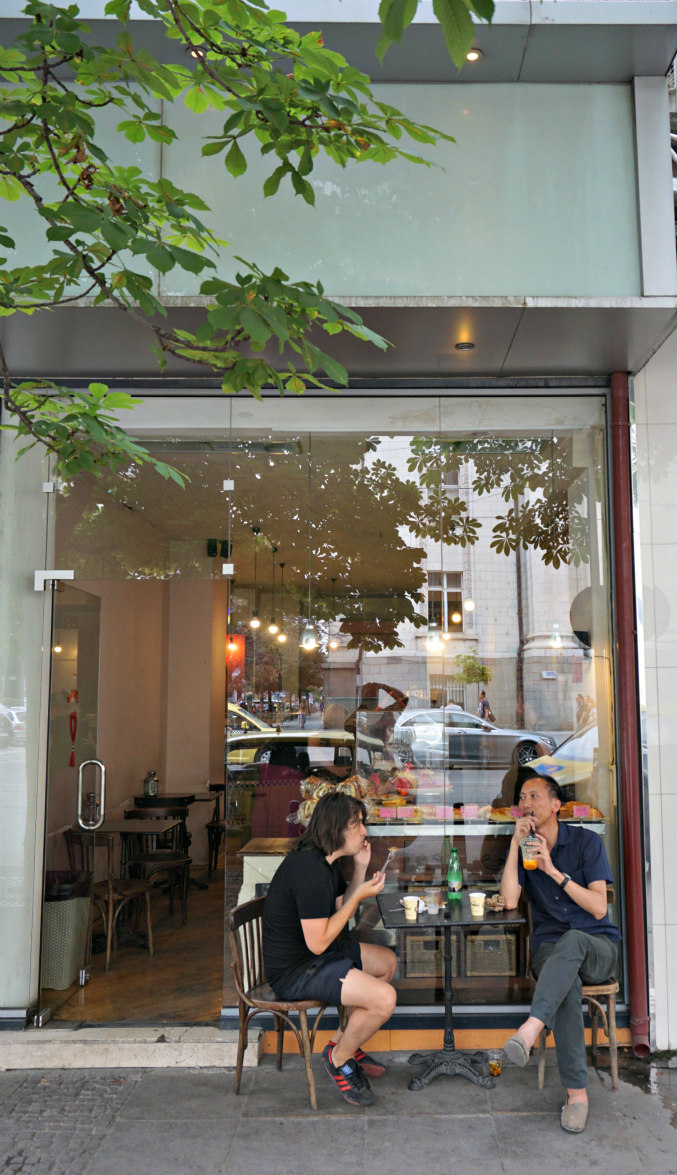 On the most trendy street in Sofia, in a world dominated by social media and commercialism, what place these days has no name? I found this shocking at first. Then I thought it actually shows confidence. The cafe owner relies on the quality of the desserts to bring more people to the cafe. No need to advertise or otherwise promote the place beyond word of mouth. Confident Humility? Or Naive Business-sense? Whatever it is, I'd recommend finding this cafe next to Zara across from the courthouse and try that apple cake!
A Walk among the Belogradchik Rocks
As I left Sofia, I crossed over to the western side of the Balkan Mountains to visit the Belogradchik Rocks and the Belogradchik Fortress in northwest Bulgaria. Once again I loved driving the winding roads up and over the mountains as well as all the views that this entails. The landscapes are stunning! Yet, not nearly as awesome as the sights still to come in Belogradchik.
The town of Belogradchik has a population of about 5000 inhabitants. Fairly insignificant it seems to bear responsibility for such natural treasures. Everywhere you look the views of these strange rock formations are there waiting for you. They lie in the hills and valley surrounding the town.
Despite the rain, I roamed around the Belogradchik Fortress and climbed to the highest tops to enjoy the magnificent views. Rarely do you see such an original scene that you just want to stay and enjoy it.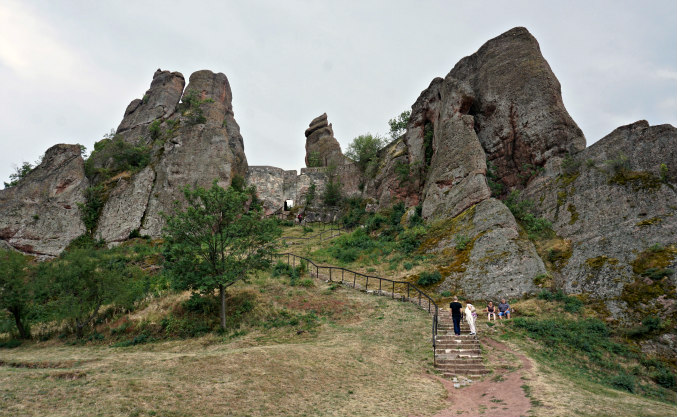 After visiting the fortress, I walked down the valley from the town center and found myself alone with such spectacular nature. I followed paths, ate some tasty raspberries that nature left for me, and rejoiced in being there in the moment.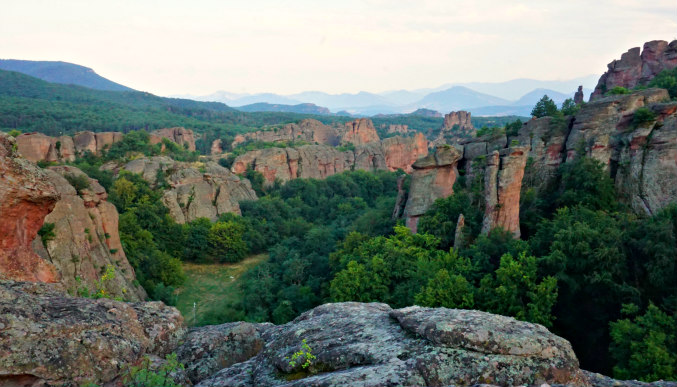 I stayed at GETO Guesthouse located near the town center. The guesthouse owners were extremely helpful and responsive to customers' needs. The room was spacious and clean. GETO Guesthouse probably provided the best value for lodging during my entire three-month Journey to Greece. I'd recommend you staying with them and making reservations via Airbnb or Booking.com.
With only two restaurants in town, I selected Markaschnica. It offered a fairly wide selection of Bulgarian dishes, a green area outside with tables for dining and family-style service. My server recommended the Stuffed Plekavitsa, which turned out to be like a sausage hamburger stuffed with ham, mushrooms, onions, peppers and cheese. As if the Stuffed Plekavitsa was not enough, it was prepared with a side of a few fries, quartered tomatoes, cucumbers and white cabbage. This dish was certainly not the best choice for me, as it was too salty and fatty for me. Yet, at least it was a local favorite.
Leaving Bulgaria
The next morning I continued driving down the Balkan Mountains to the Danube River, where I crossed the border into Romania.
I spent a total of eight days in Bulgaria (one day on the way down and seven on the way back up north). Unfortunately, most of my time was spent in three cities in central and western Bulgaria, as I would have liked to have visited eastern Bulgaria, in particular the towns along the Black Sea.
As Bulgaria is a land that has been invaded many times, it's not shocking that many of the sites to visit include fortresses or other places used for defence of the territory. Churches and monasteries are the other main attraction in most towns and cities. The fortresses were sometimes even built to protect the monasteries and churches.
I'd recommend exploring Bulgaria and discovering its cities as well as its villages. You will enjoy the food, scenery and people. It's long and interesting history spanning millennia will also amaze you.