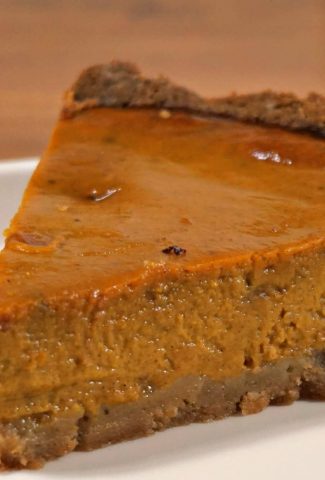 What Makes This Speculoos Pumpkin Pie Worth Waiting an Entire Year?
For more than 30 years I've been making pumpkin pie for Thanksgiving. I have always considered pumpkin pie to be one of my specialties. Truth be told, I've basically followed the same recipe for the filling all these years, initially inspired by the Joy of Cooking (6th edition).
However, from time to time I've tried different crusts. This year I tried a new Speculoos Pie Crust and found it to be easy and delicious. Follow the link above to discover the recipe for this amazing pie crust so you can have as much success as I've had. In a separate post I will share a recipe for another pie crust I've happily used in past years.
Other Ways to Use Pumpkin
In Belgium, pumpkin is used mainly in savory dishes, such as soup. For ideas on how to use pumpkin in non-sweet dishes, please follow this link. Belgians tend to find it odd to use pumpkin in a sweet dish, such as pumpkin pie. We therefore often get mixed reactions from our non-American guests when they taste the pumpkin pie. Some just find it weird to eat pumpkin in this way, while others are not used to eating food with cinnamon and ginger.
This year everyone raved about my Speculoos Pumpkin Pie, which I must admit was damn good! We might not be able to wait until next year to try it again, but if we do have to wait it will be worth a year of anticipation to taste it again next year! For more information about Speculoos and my Speculoos Pie Crust, click this here. Discover also the recipe for Speculoos Cookies to use for your own pleasure or to make the Speculoos Pie Crust.
How to Prepare the Pumpkin
Since it's almost impossible to find canned pumpkin outside of the United States, I make my pumpkin filling with pumpkin puree made from fresh pumpkin. If you follow this step, remember to leave the cooked pumpkin in a strainer over a bowl for about 30 minutes to eliminate the excess water. But do not throw this liquid out as it is absolutely delicious to drink as is. Alternatively, add it to your smoothies, oatmeal, soup or any other dish. I find this liquid to be my autumn gold as it is so refreshing.
Learn how to prepare Pumpkin Puree by following the steps described in my earlier post. This will guide you through the cooking and blending processes.
I prepare the pumpkin puree the night before we celebrate Thanksgiving. This not only saves time on Thanksgiving day, but it also allows the pumpkin to cool off properly. While the pumpkin cooks I quickly prepare my Speculoos dough for the pie crusts in my food processor. Afterwards I put the cooled and strained pumpkin along with the wrapped pie crust dough in the refrigerator over night.
Most cookbooks recommend roasting pumpkin in the oven to remove the flesh from the skin. Roasting helps bring out the flavors of pumpkin. When I need pureed pumpkin, I usually remove the skin with a knife, chop up the pumpkin in smaller pieces, and then cook them in a casserole with a little water over the stove. It only takes a few minutes to remove the skin and another 15 minutes or so to cook the pumpkin. Pumpkin should be cooked just long enough so you can break it down with a fork. If you use canned pumpkin you can skip this step.
How to Use this Speculoos Pumpkin Pie Recipe
The recipe below is for two 10 inch / 26 cm round Speculoos Pumpkin Pies. I always prepare at least two pumpkin pies at Thanksgiving. If there's any pie leftover, you'll be happy the next day to have a treat. Otherwise, you can send some home with guests.
Creating this recipe for two pies also works better because of the egg count. The Prep Time and Cook Time indicated in the recipe below are for baking two pies separately. If you have two ovens, the Prep Time will be the same, but the Cook Time will be only 45 minutes.
Please share this Speculoos Pumpkin Pie To Die For recipe with your friends, especially when they ask for it after your Thanksgiving dinner. I'd love to read your comments below on your experience with this recipe.
For more Thanksgiving recipes and stories, read Thanksgiving in Belgium, Simple Stuffing for Thanksgiving, and Succulent Sweet Potato Casserole. You can also find loads of Thanksgiving recipes on Pinterest on Belgian Foodie® boards Thanksgiving Recipes and Pumpkin or Butternut Squash Recipes.
Speculoos Pumpkin Pie To Die For (2 pies)
The secret to this amazing pumpkin pie is the Speculoos pie crust. The filling has been used reliably for success for more than 30 years! Try this Speculoos Pumpkin Pie with your family and guests this year (and next)!
Ingredients
Speculoos Pie Crusts for two 10 inch / 26 cm round pies weighing 24.7 oz / 700 g each
Pumpkin Pie Filling (2 pies)
1275

g

pumpkin puree

from fresh pumpkin or equivalent in canned pumpkin

125

g

brown sugar

250

g

raw cane sugar

or white sugar

1/8

tsp

salt

1 1/4

tsp

ginger

ground

2 1/2

tsp

cinnamon

ground

5/8

tsp

nutmeg

ground

1/7

tsp

cloves

ground

5

eggs

710

ml

reduced fat evaporated milk
Instructions
Speculoos Pie Crusts
Prepare the Speculoos Pie Crusts as indicated in the recipe. Remember to pre-bake the crusts and let cool before filling with the Pumpkin Pie Filling below.
Pumpkin Pie Filling
In a bowl mix the pumpkin puree, white and brown sugars, spices and salt.

Lightly beat the eggs until mixed. Add to the bowl with the other ingredients.

Add the evaporated milk and mix lightly.
Baking Pumpkin Pies
Preheat oven to 180° C / 350° F.

Pour about 1/2 of the filling onto the cooled crust in a pie tin, leaving a small space at the top. Place the pie tin on a baking sheet (preferably covered with aluminum foil to catch any spills) into the middle of the oven.

Leave to bake about 40 to 45 minutes. The time may depend on your oven. I usually turn my pie tin after about 25 minutes to get an idea of how it's cooking. Cook until the top is no longer liquid and feels slightly firm when you touch in the middle. A toothpick should also come out clean.

Repeat the above step for the second pie. While the first pie is cooking, leave the remaining filling in the bowl to avoid the crust becoming soggy before you bake your next pie.

If you have any filling left over, pour it into one or more ramekin bowls and place in a large bowl filled half way with water. Place it in the oven and cook like you would for custard. The time will depend on the size of the bowls, but it will take probably at least 30 minutes. These pumpkin custards are absolutely delicious when served cold.
Nutrition
Nutrition Facts
Speculoos Pumpkin Pie To Die For (2 pies)
Amount Per Serving
Calories 389
Calories from Fat 162
% Daily Value*
Fat 18g28%
Cholesterol 113mg38%
Sodium 262mg11%
Potassium 269mg8%
Carbohydrates 52g17%
Protein 7g14%
Vitamin A 0IU0%
Vitamin C 0mg0%
Calcium 0mg0%
Iron 0mg0%
* Percent Daily Values are based on a 2000 calorie diet.