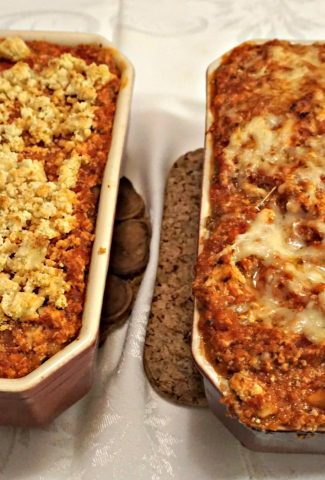 The Vegan Eggplant Lasagna Challenge
I have made vegetarian lasagna countless times. Yet, I've always added cheese to each layer. Sometimes I reduce the amount of cheese I use by mixing ricotta cheese with eggplant puree together. I'll have to share my vegetarian lasagna some time, as it's my son's favorite.
What is Vegan Eggplant Lasagna?
Last week I seemed destined to make Vegan Eggplant Lasagna. Well, eggplant lasagna is perhaps a misnomer because it had absolutely no pasta or noodles of any kind inside. Yet, the term lasagna seems to fit because three layers of thinly sliced eggplant (instead of lasagna sheets) are interspersed by tomato sauce and cheese.
My dish resembles eggplant parmesan, except that it is prepared in a deep dish and the eggplant is not breaded, fried or cooked in advance. Skipping the breading and frying stages improves the nutritional profile of this dish without reducing its flavor. I would even argue that you can taste the eggplant better because it's not hidden by the taste of bread crumbs or oil.
Why Did I Make Vegan Eggplant Lasagna?
Several factors inspired me to make this Vegan Eggplant Lasagna. First, I recently purchased a Cuisinart Elite 2.0 16-cup Food Processor and wanted to play with it. It has a great slicing blade that you can set at 10 different levels of thickness from 0 mm to 10 mm. The lowest setting allows you to cut vegetables or fruit almost paper thin! How amazing is that?
Second, I saw beautiful organic eggplants at the market and immediately wanted to make something with eggplant. I'd typically make Baba Ganoush. For weeks, however, I've been unsuccessfully looking for tahini (sesame butter) to use in baba ganoush. Surprisingly, finding tahini in Los Angeles is not as easy as expected. I therefore chose to use the lovely eggplants to make a Vegan Eggplant Lasagna.
Third, I wanted to try making homemade Vegan Almond Cheese. This recipe for Vegan Almond Cheese used to be one of the best-performing recipes on my Pinterest boards. I was therefore intrigued and wanted to test it out. Using Vegan Almond Cheese to replace the mozzarella and Parmesan cheeses in this Vegan Eggplant Lasagna seemed like a great idea.
As a few friends were joining me for dinner, I decided to make a Vegetarian Eggplant Lasagna with mozzarella cheese and Parmesan cheese along side this Vegan Eggplant Lasagna to compare the tastes and results.
Comparing Vegetarian and Vegan Eggplant Lasagnas
Making the Vegetarian and Vegan Lasagnas
Preparing Vegan Eggplant Lasagna allowed me to use my new food processor, eggplants and Vegan Almond Cheese. Jackpot!
The day before making my eggplant lasagnas I prepared the Vegan Almond Cheese, leaving it in the refrigerator to allow the flavors to meld.
At the time of the big event, in minutes I peeled the eggplants and sliced them 4mm thick with the Cuisinart Elite 2.0 16-cup Food Processor. It was so easy to make uniform slices, even though there was no need for them to be so similar.
While the eggplant slices were releasing their water in a colander in the sink, I prepared a double recipe of my Vegan Tomato Sauce for All Occasions. One portion for each lasagna.
With all the ingredients at hand, I started preparing the lasagna dishes, starting with the vegan version. First, I spread a little Vegan Tomato Sauce for All Occasions on the bottom of the dish. Then I laid slices of eggplant over the sauce, overlapping a little until all the space was covered. I poured more sauce over the eggplant slices and then topped it with some Vegan Almond Cheese. Next I proceeded in the same manner for two more layers until the deep dish was filled.
For the Vegetarian Eggplant Lasagna, I followed the same steps, except replacing mozzarella and Parmesan cheeses for the Vegan Almond Cheese.
I cooked both lasagnas for 30 minutes before serving them to my friends, who agreed to be my taste testers.

Taste-testing the Vegetarian and Vegan Lasagnas
I did not tell my guests that I used Vegan Almond Cheese in the Vegan Eggplant Lasagna. Nor did I let them know that one was vegan and the other vegetarian.
No one could guess that the Vegan Almond Cheese was not dairy. Despite the Vegan Almond Cheese not melting in the same way as the mozzarella cheese, the taste of both lasagnas was quite similar. My taste testers preferred the melted cheese consistency in the Vegetarian Eggplant Lasagna. However, I preferred the Vegan Eggplant Lasagna, as the true flavor of the eggplants and tomato sauce seemed to prevail.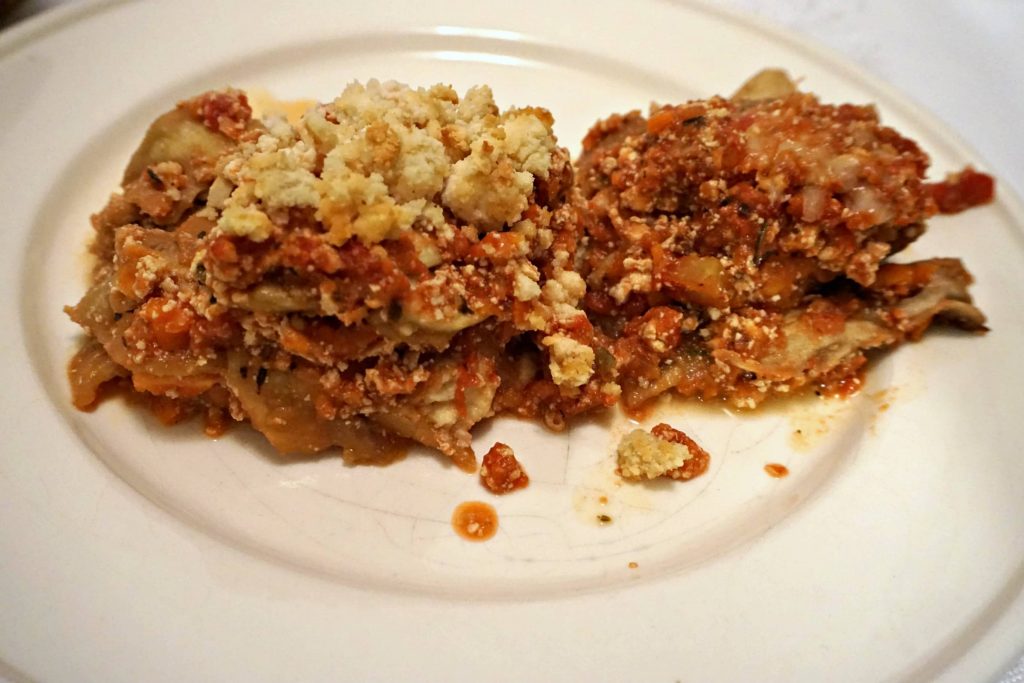 Gluten Free and Meatless – Other Dietary Restrictions
If you eat dairy cheese, check out the recipe for Vegetarian Eggplant Lasagna. Or if you have guests with different dietary needs, like I did, you can prepare both the vegan and vegetarian eggplant lasagnas. Fortunately, each lasagna is gluten free and contains no meat. Only the Vegan Eggplant Lasagna, however, is also ideal for anyone who is lactose intolerant.
I hope your family and friends will enjoy these lasagnas as much as we did. They are a one-dish meal and quite filling. They have both vegetables and protein. You can serve this Vegan Eggplant Lasagna with a grain, couscous or brown rice, if you prefer having a grain to complete your meal.
Please leave me some comments to let me know what you think of this recipe. Thanks for sharing this recipe with your friends so they can enjoy it as much as you will.
Vegan Eggplant Lasagna
This Vegan Eggplant Lasagna is a complete gluten-free meal that your family and friends will enjoy, even those who eat usually meat. The time mentioned below does not include making the Vegan Tomato Sauce or the Vegan Almond Cheese.
Instructions
Peel the eggplant and slice it thinly.

Place the eggplant slices in a colander over a bowl or in the sink. Sprinkle about a teaspoon of salt on the eggplant slices. Toss the slices in the colander. Cover with a paper towel. Leave at least one hour to let the moisture from the eggplant drain from the colander.

Use a paper towel to rub off the salt and extra moisture from the eggplant.

Preheat the oven to 350° F/ 170° C. Spread about one-third of the Vegan Tomato Sauce on the bottom of a deep baking dish.

Cover the tomato sauce with a layer of eggplant slices. The slices can overlap slightly in order to cover the whole bottom surface.

Pour some sauce over the eggplant slices so the whole layer is covered.

Sprinkle about a third of the cheese on top of the tomato sauce.

Repeat adding tomato sauce, eggplant slices and cheese for two more layers.

Cover the baking dish with aluminum foil. Bake in the oven about 20 minutes. Uncover the baking dish and bake about 10 minutes more or until the top is golden brown. Make sure the eggplants are cooked.

Cover the baked eggplant lasagna and let sit a few minutes before serving. There may be a little liquid on the bottom of the dish from the eggplants, but don't worry about this. The liquid will disappear when you serve leftovers. If you eat gluten you could sprinkle a little flour in the first layer of tomato sauce.

Serve and enjoy.
Notes
 This eggplant lasagna is yummy with a homemade vegan tomato sauce but you can also substitute with another vegan tomato sauce that you make or buy.
You can substitute the homemade Vegan Almond Cheese mentioned in the recipe with another vegan cheese that has a taste similar to mozzarella or Parmesan cheese.
Nutrition
Nutrition Facts
Vegan Eggplant Lasagna
Amount Per Serving
Calories 296
Calories from Fat 198
% Daily Value*
Fat 22g34%
Sodium 409mg18%
Potassium 509mg15%
Carbohydrates 20g7%
Protein 11g22%
Vitamin A 0IU0%
Vitamin C 0mg0%
Calcium 0mg0%
Iron 0mg0%
* Percent Daily Values are based on a 2000 calorie diet.