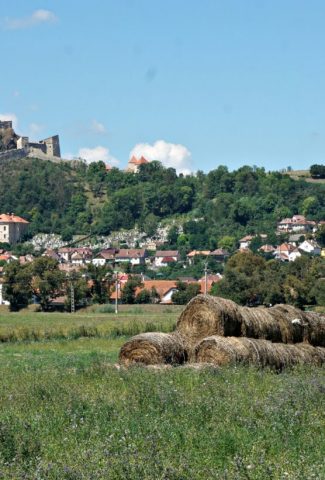 First Time in Romania
At the start of my Journey to Greece last June, I spent five days in Romania visiting mainly Timisoara, Sibiu and Brasov. Stopping in villages along my route or at vista points atop mountains to take photos of the magnificent scenery below became part of my daily routine while travelling by car.
The landscapes in the Transylvania region of Romania, in particular in and around the Carpathian Mountains, were absolutely breathtaking. Of the three cities visited on my first trip, I loved Brasov most and would have liked to have stayed there longer.
For more information on my travels in Romania the first time, read Becoming More Centered in Central Europe and Road from Brasov to Xanthi.
Returning to Romania
Pitesti
On my way back north towards Belgium at the end of July, I crossed into Romania at the Vidin – Calafat border over the Danube River. My first day I travelled to Pitesti, passing through Craiova and Slatina along the way. Plains and fertile agricultural land cover most of this area from the Danube River to Pitesti.
I chose Pitesti to spend the night as it seemed to be a good junction and stopping point on my way to Brasov. I was so pleased to discover that my hotel for the night, Hotel Cornul Vanatorului, was surrounded by woods and that it provided wellness treatments. It unexpectedly provided a wonderful place to relax along the route up north. I enjoyed two (not just one) fifty-minute massages for a total of 50 Romanian lei (about EUR 12.50 / USD 14.00)! I also loved walking in the woods breathing in the fresh air.
The food at the hotel's restaurant, however, was by far the worse I had been served during my 12-week Journey to Greece. I had never tasted more repulsive barbecue pork ribs. I'd therefore not recommend anyone eating at this restaurant if travelling through Pitesti.
Brasov
The drive from Pitesti to Brasov took me a few hours through the Carpathian Mountains in the southern edge of Transylvania. I made sure to have extra time to travel this distance so I could enjoy the views and stop as much as I wanted.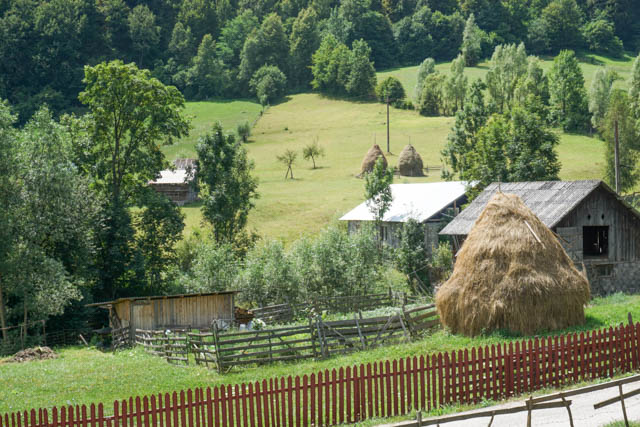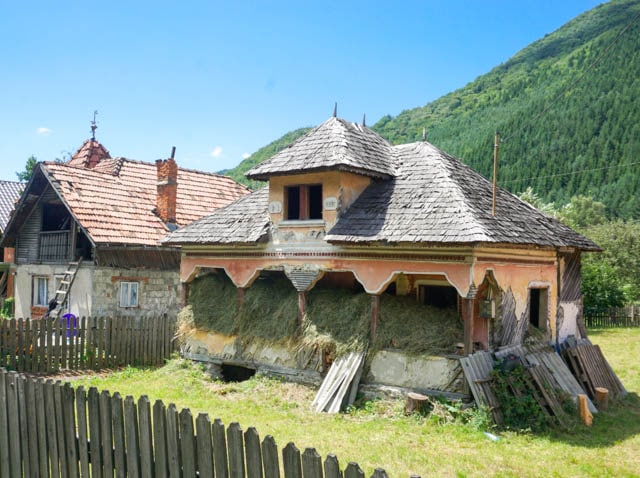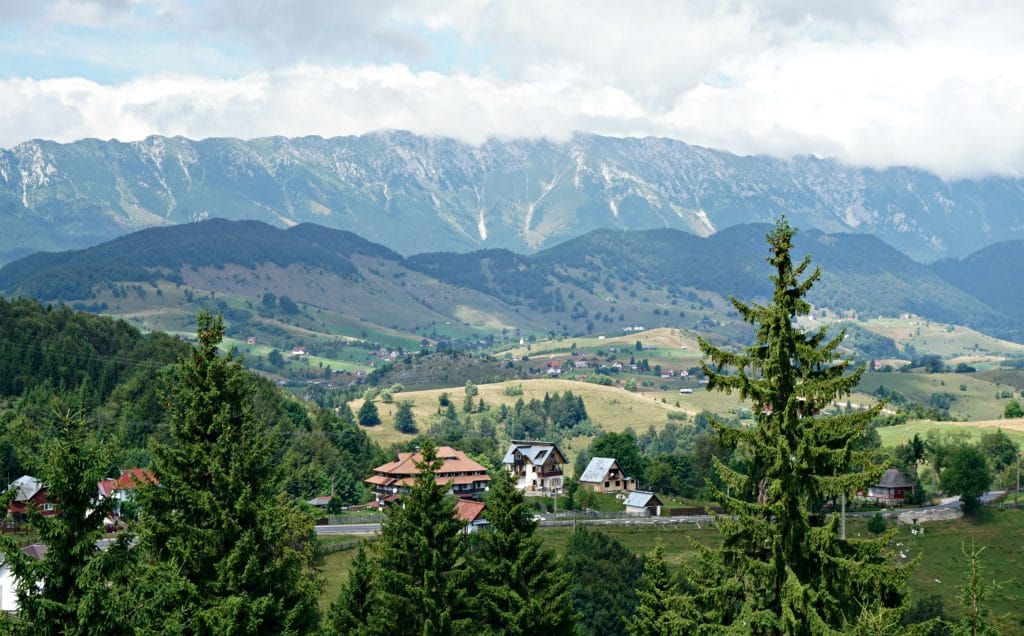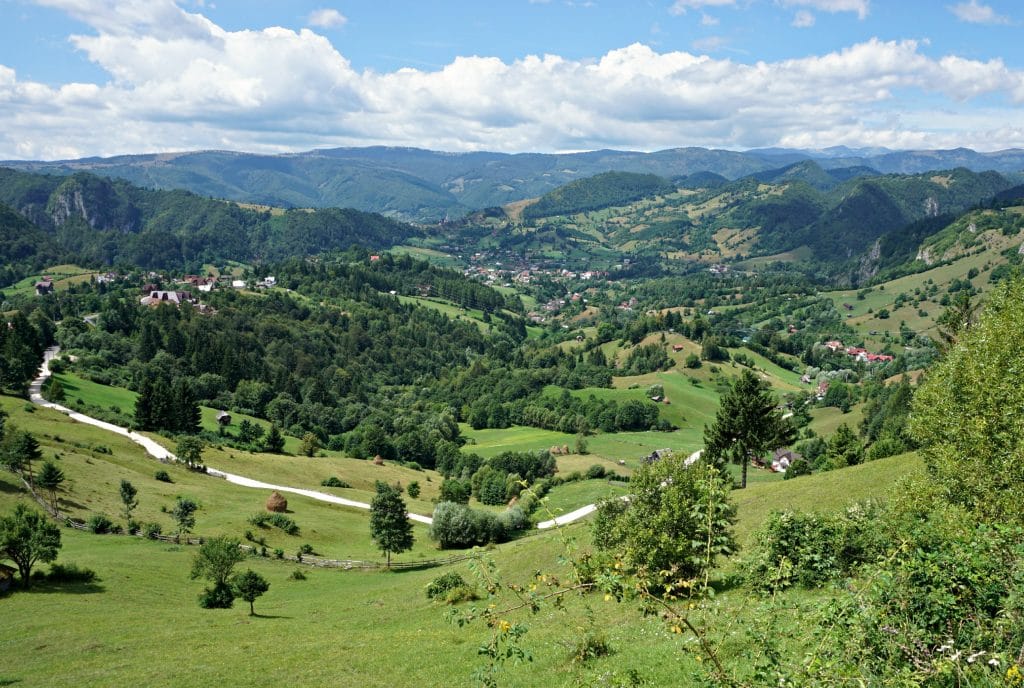 Brasov is the only town that I visited twice on my Journey to Greece. Not only is Brasov strategically located in the center of Romania with roads passing East-West as well as North-South through the town, but it is also a lovely place to visit.
I felt immediately at home again in this mid-size town nestled by mountains. There were definitely more tourists exploring the city in August than when I visited in early June. The cafes and restaurants near the main meeting point, Council Square, are bustling most of the afternoon and evening. Young people, older folks and families rest on a bench or chair on Council Square enjoying the warm weather and watching people walk by.
Surprisingly with so many people roaming the streets of Brasov, very few people remain on the streets after 11 pm. Of course, a few night clubs or other drinking establishments remain open for people to continue their discovery of this lovely town. Yet, most places close down.
For dinner I returned to La Ceaun (The Cauldron) where I devoured a generous bowl of beef goulash finished off with a super delicious apple strudel.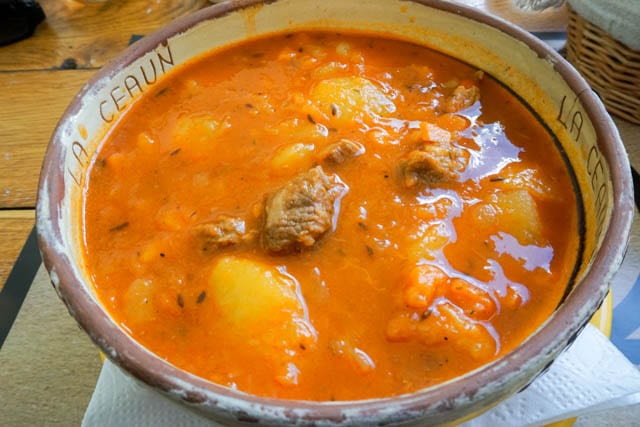 La Ceaun was one of my favorite restaurants during my Journey to Greece. The restaurant definitely realizes its aim of serving food prepared according to grandmother recipes. The food is homey and tasty while being cooked with top quality ingredients. The only thing missing is the grandmother herself to wrap you in her loving arms and make you feel extra special. For more information on La Ceaun or Brasov, read Becoming More Centered in Central Europe.
After my early dinner I walked up to Turnul Alb (Alb Tower) overlooking the city rejoicing in the most beautiful views of the city. I wish I had visited this tower earlier on my visit since it was already becoming dark when I arrived. If you go to Brasov, go up to Turnul Alb early on during the sunlight to take photos.
Sighisoara and Targu Mures
After Brasov I headed a few hours north to Targu Mures, stopping in Sighisoara and other villages along the way.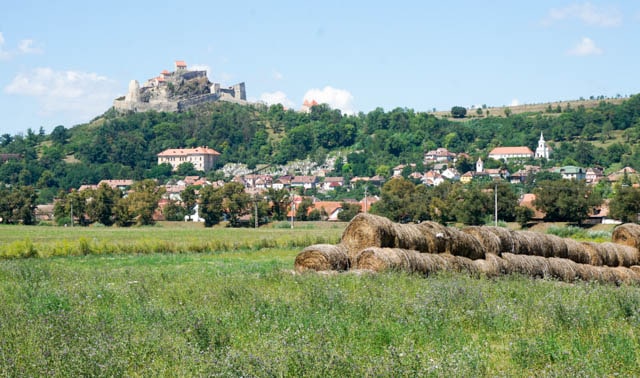 Sighisoara
Sighisoara is considered one of Romania's most beautiful towns. As a quaint fortified town, it certainly has everything to charm visitors. Nine towers inside the fortified walls originally built by the Saxons charged with defending the town from invaders. Each tower was erected by a different guild, which was responsible for manning the tower and covering related costs. Colorful houses line narrow cobblestoned streets, while with other remnants of the town's fairy-tale past woo visitors.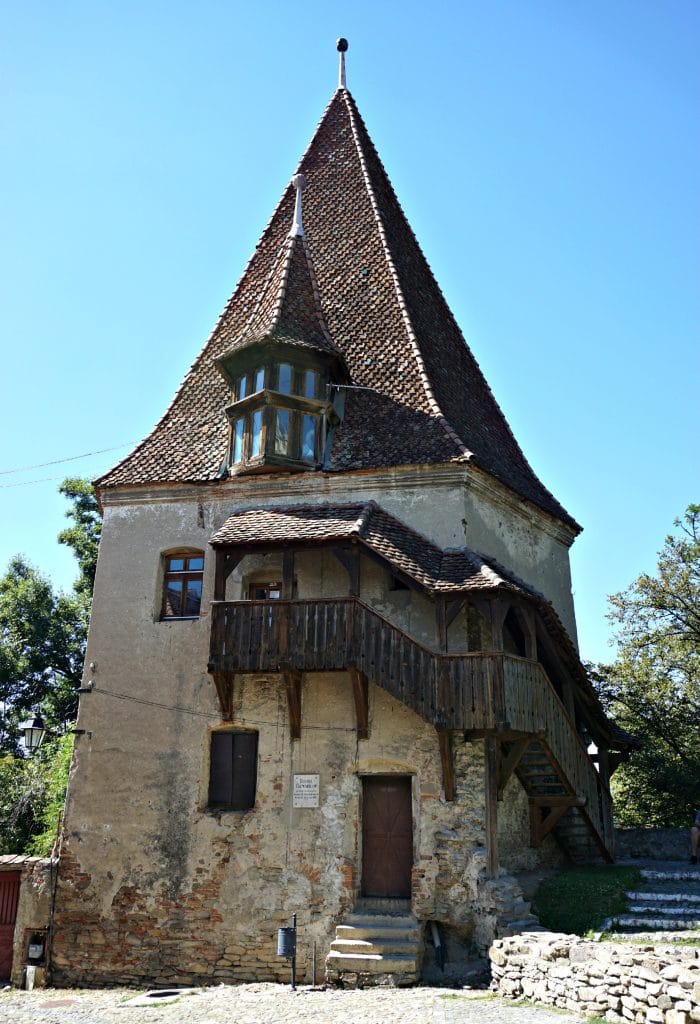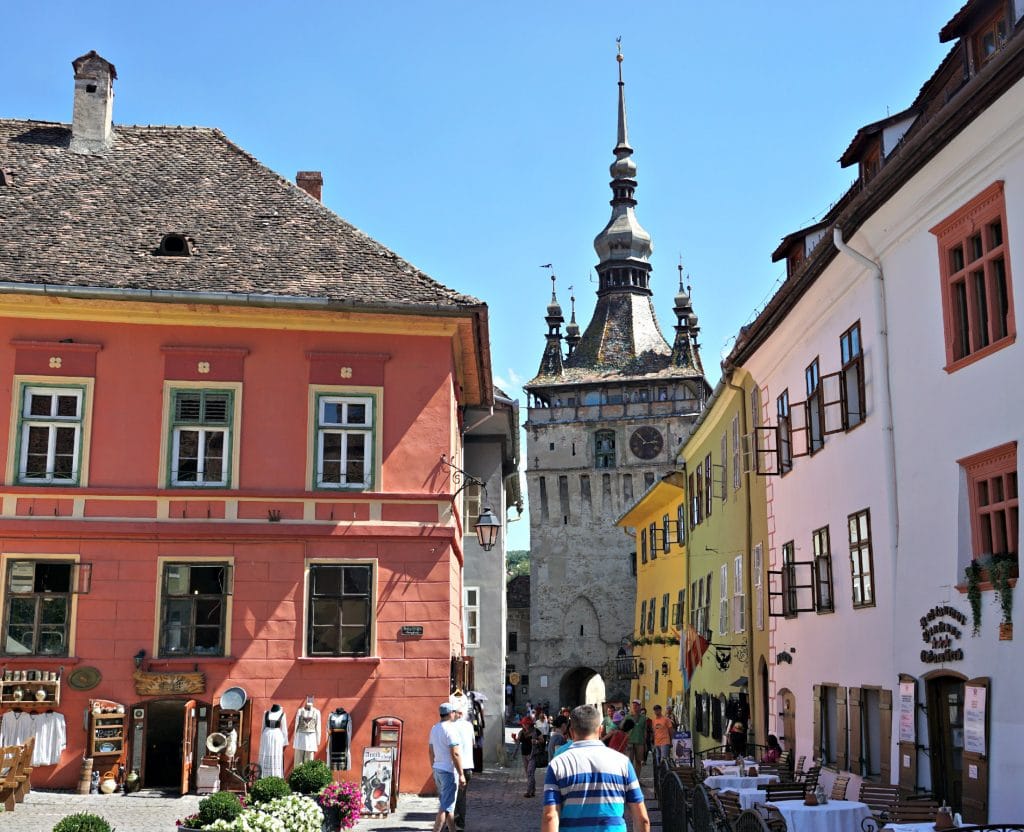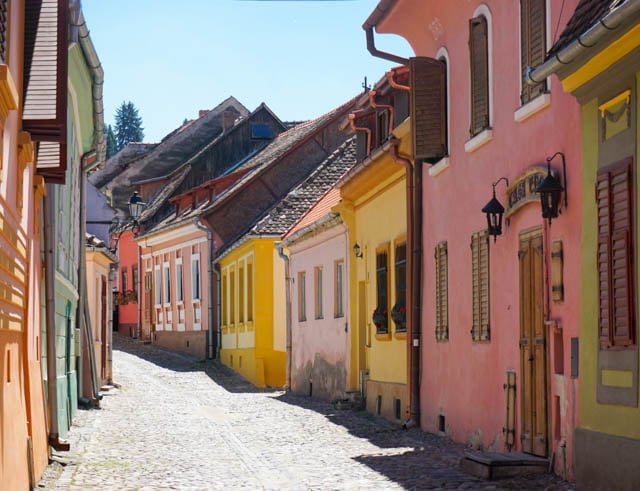 I found however that Sighisoara is a victim of its own beauty. Hordes of tourists roam the town, while the local merchants offer tacky souvenirs for sale. The town is primped for the tourists in a way that detracts from its natural qualities. When I visit a town I prefer feeling that my experience is genuine and unique, even if it is not really the case. In the end I was very content that I stopped in this must-see town for a couple hours and then headed towards my night's destination, Targu Mures.
Targu Mures
Targu Mures (also known as Tirgu Mures) is today known mainly for its Fortress Church, essentially a fortified monastery that has been destroyed and rebuilt several times. It has been recently restored for visitors. In former times, the town was known as an important market place along the Mures river.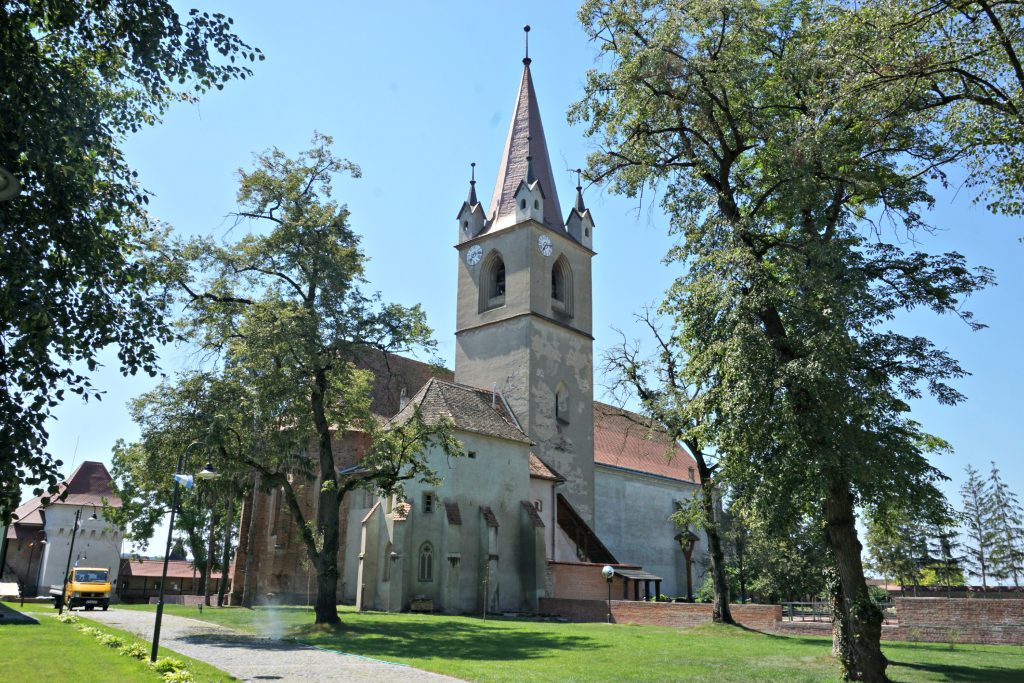 With almost half of the population being Hungarian, Targu Mures is officially bilingual (Romanian and Hungarian).
The main square Piata Trandafirilor is pleasant for shopping or a stroll in the evening. On this square I discovered some tasty treats called covrigi for sale by Ioan as well as other places nearby. Ok, I did not discover covrigi, as these filled round pretzel-type goodies are clearly a local favorite. Yet for me it was a fun discovery.
Ioan also sells other items, such as langos, which are filled pastry sweets. I ended up buying a few covrigi and a langos to try and then a couple minutes later buying a covrigi filled with plum jam at another place so I could compare the two.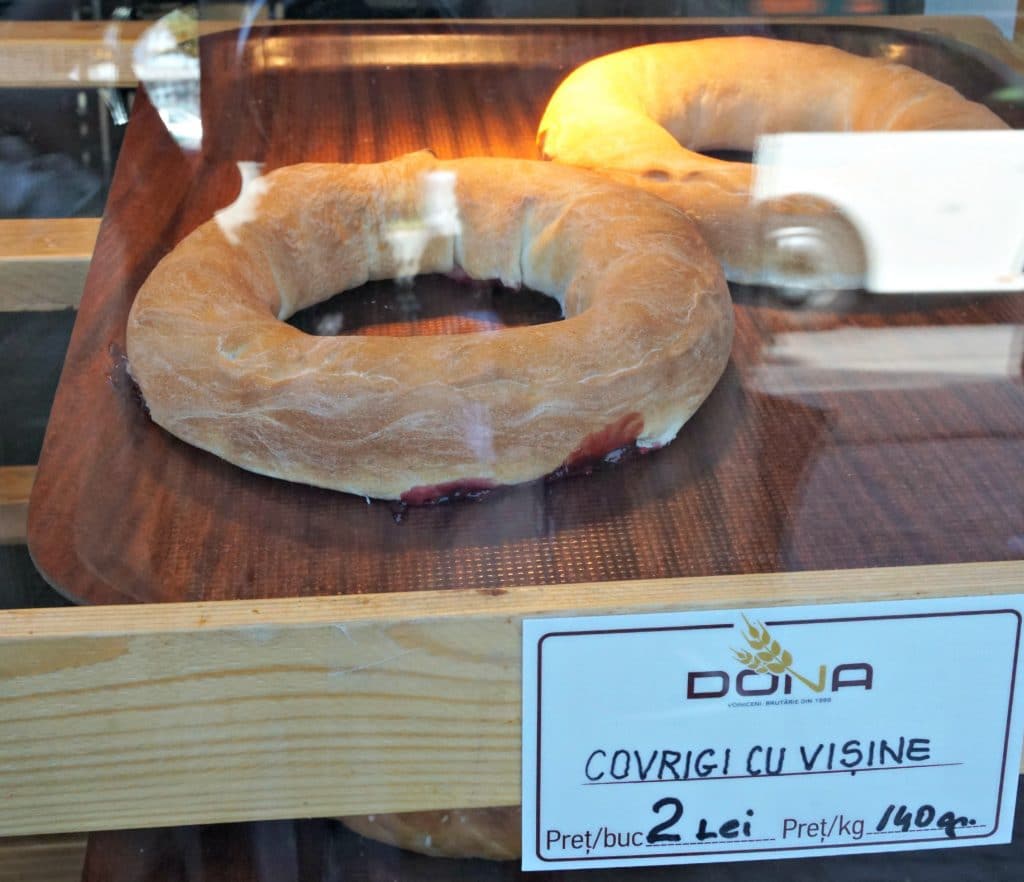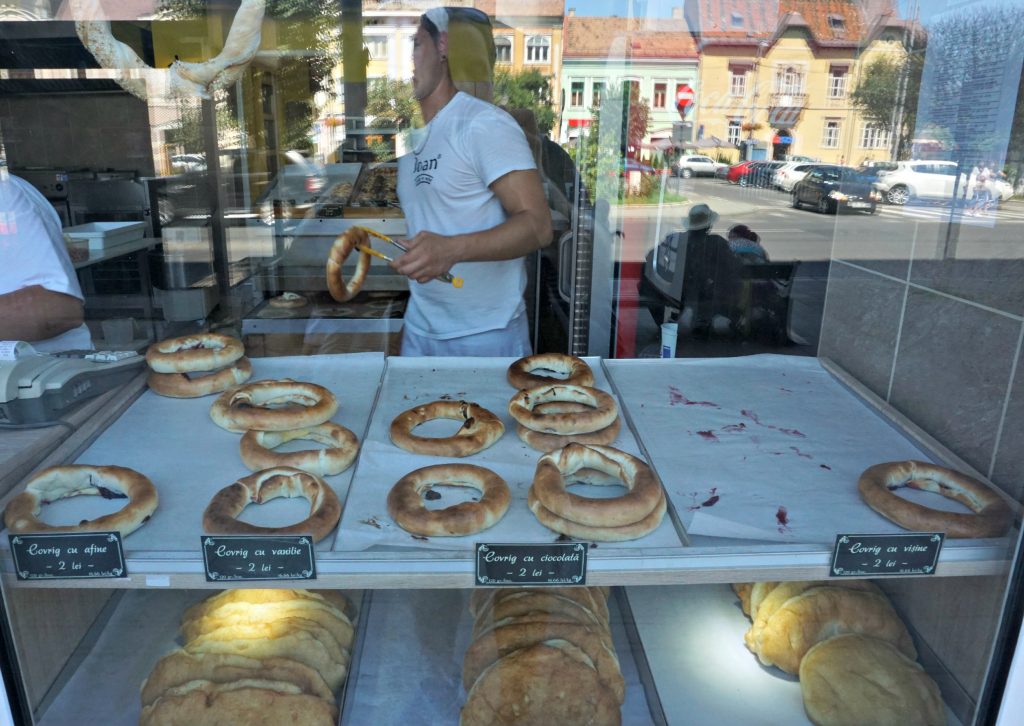 It always amazes me when something so easy to make and so yummy does not expand its reach to farther lands. I added these treats to my list of other discoveries that might be worthwhile introducing to waiting customers in the United States or other parts of Europe. These poor potential customers don't even know what they are missing.
Although Targu Mures does not feature many (tourist) attractions, it is located close to some interesting sites, such as salt mines (now salt lakes). You can therefore spend a night or two in Targu Mures and enjoy day excursions to see the other sites.
Eating at Laci Csarda Restaurant, a short walking distance from Piata Trandafirilor, will make any visit to Targu Mures worthwhile. This popular restaurant serves tasty homestyle food in a friendly charming atmosphere ideal for a group of friends or family. During the warmer months, there is a large outside patio in addition to the rooms inside. Reserve in advance or come early if you want a table outside. You will appreciate being outside on a warm evening.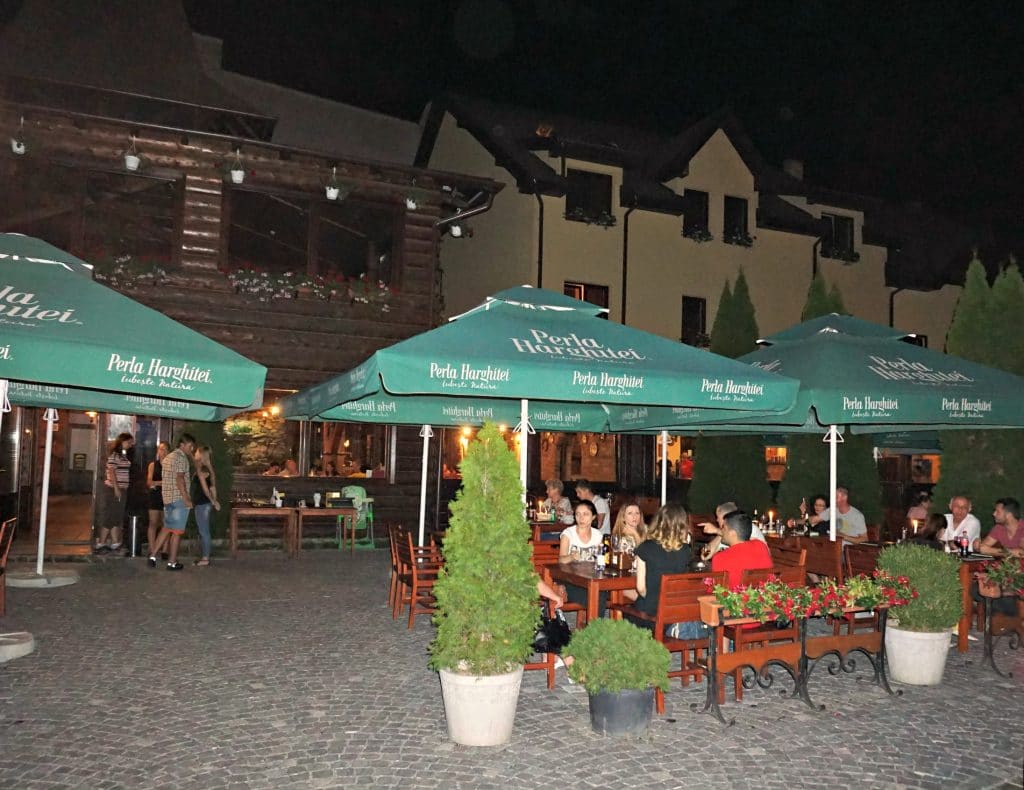 At Laci Csarda Restaurant, I devoured a plate of zacusca made with tomato and eggplant as a starter. I followed with a generous portion of paprika chicken with dumplings (nokedli), which was absolutely delicious and creamy.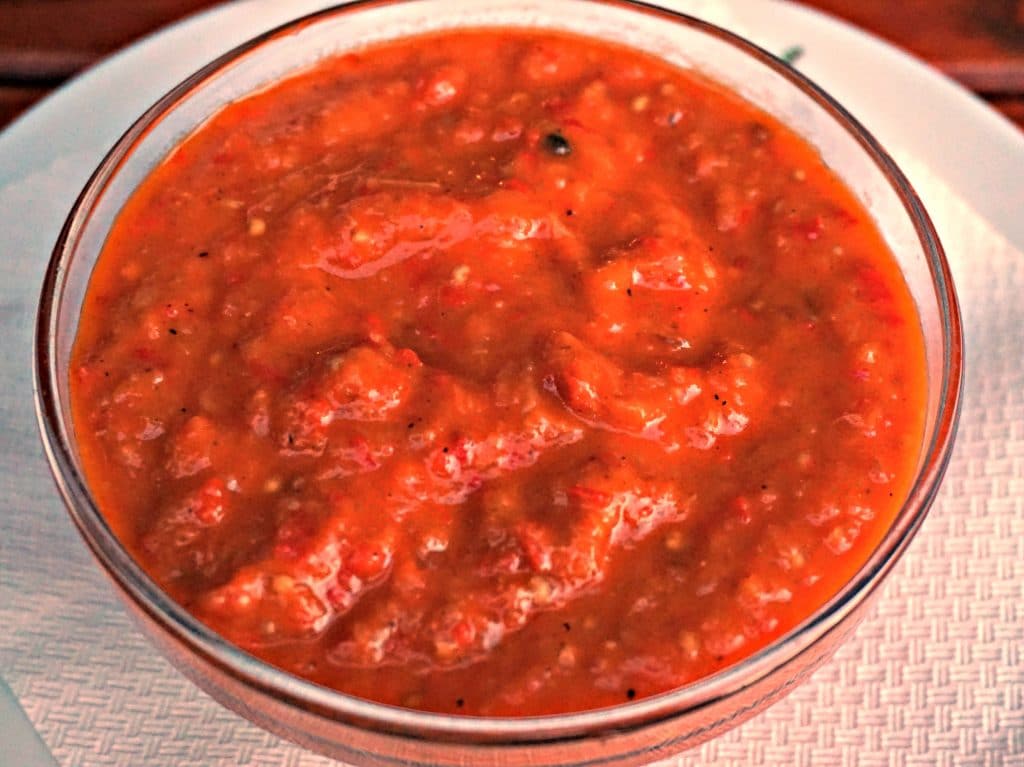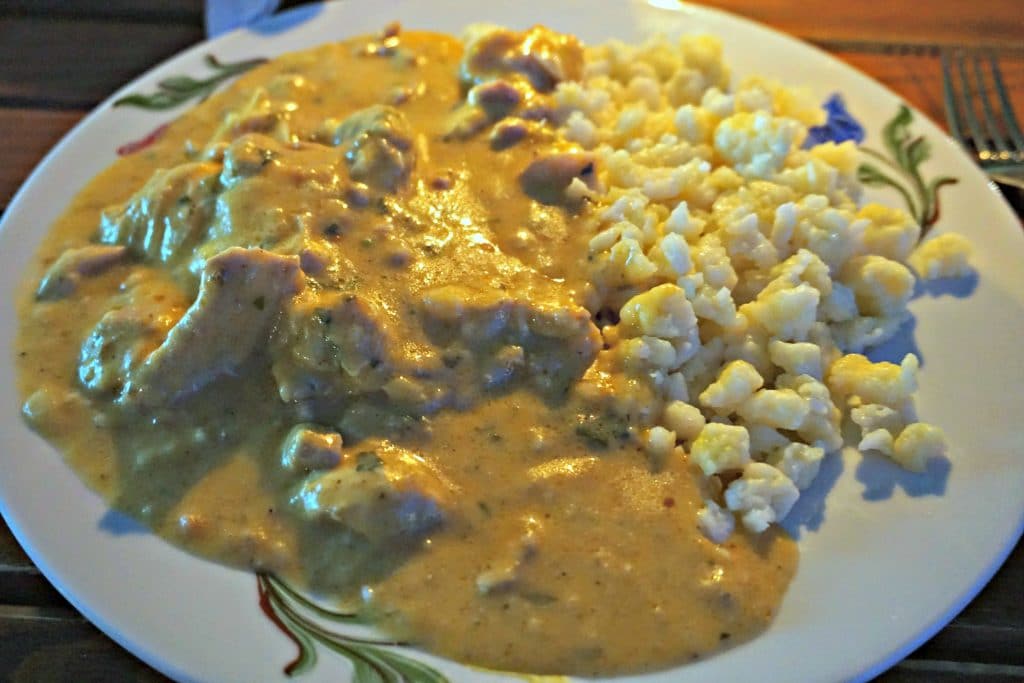 For dessert, I ordered Szilvas Gomboc, Hungarian plum dumplings, a dessert I had seen featured on many menus in Romania over the past days.
My Szilvas Gomboc dessert turned out being three plums baked in a crust made of potatoes, bread crumbs and cinnamon sugar served warm. The crust resembled in taste a crumb doughnut. The plums had been either soaked in red wine or infused with spices you'd use in mulled wine. I found the Szilvas Gomboc good but a little dry. It was also too big to eat alone and would thus be better shared with one or two other persons.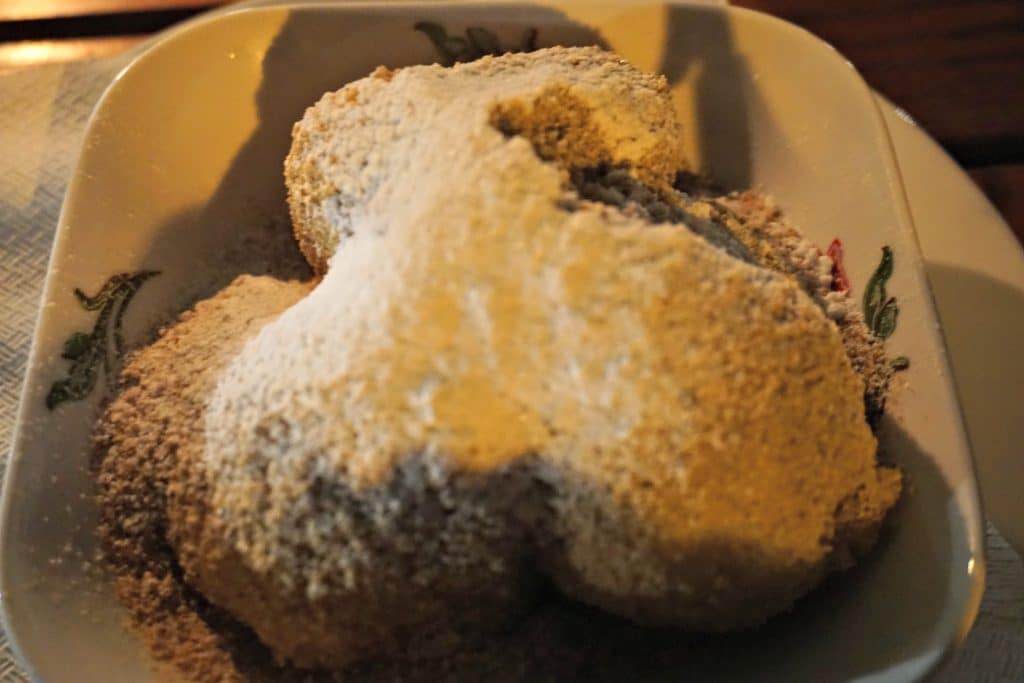 Bistrita
Originally I had planned to head to Cluj-Napoca after visiting Targu Mures. Unbeknown to me, however, a large electronic music festival was being organized there during the days I had hoped to be visit. All lodging turned out to be three times higher than usual. So I decided to change my plans and go instead to Bistrita in northern Transylvania, near the Ukraine border.
Bistrita exceeded my expectations. The drive there passed through quiet villages and stunning green landscapes. On arrival in Bistrita the town appeared to have little to offer tourists having to pass through industrial zones before arriving in the center. However, when you explore a bit further and head to the old part of town, you will discover a charming, relaxing town with a magnificent park along the Bistrita River.
A fairly long pedestrian street hosts numerous cafes and restaurants with tables outside during the summer. After walking down the street I chose to sit at Bachio Bar, where I had not one but two café frappés! I believe these café frappés were the most yummy of all similar drinks I had on my Journey to Greece.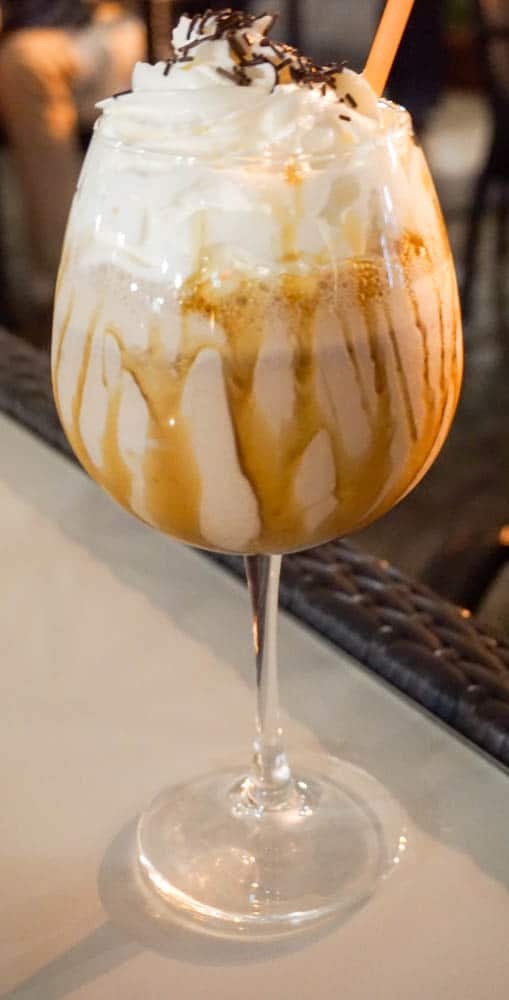 The park's design featured spaces for people to sit, walk, ride bikes, and participate in other activities. Yet it also somehow created these spaces in a way that everyone could enjoy their activities in harmony with others engaging in other activities.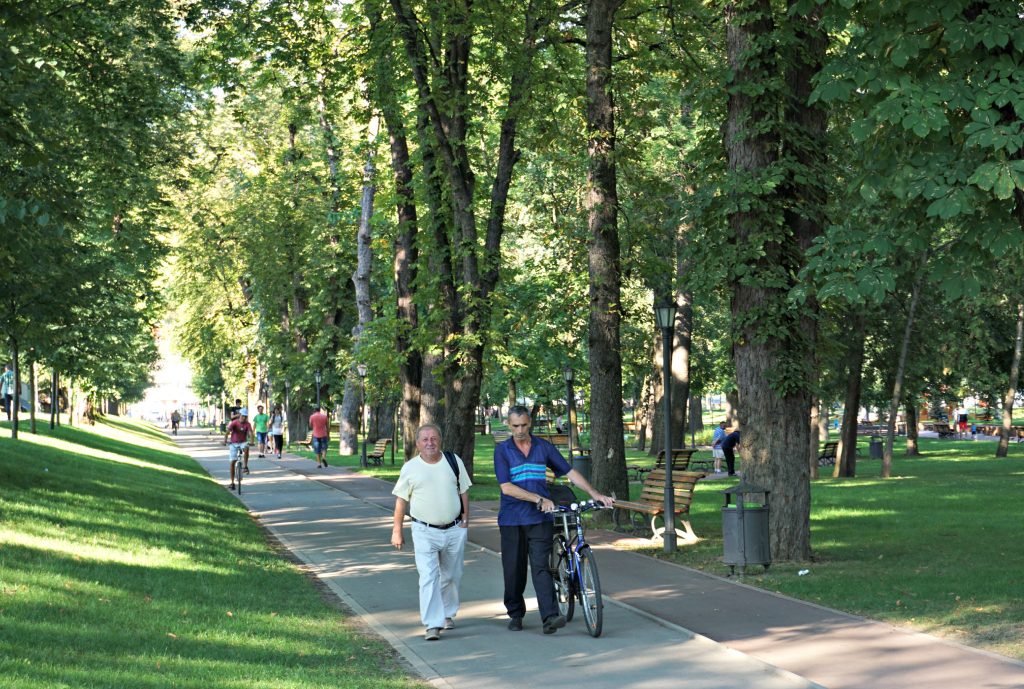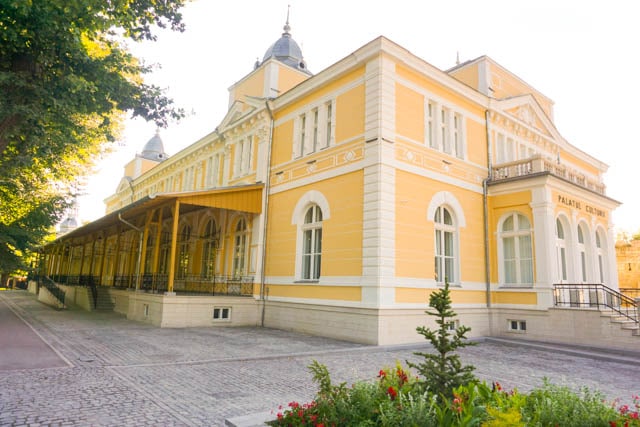 On the back side of the beautiful Palatu Culturii (Palace of Culture) and bordering on the municipal park is one of the town's favorite restaurants, Crama Veche. I had already read about this restaurant, yet was completely in awe when I found it during my walk around town. The setting is perfect, with an outside garden area broken up into several spaces by wooden lattices. The garden appears to be a continuation of the park next door. During the summer, the garden setting is enchanting. During the winter, however, the seating is downstairs in a cellar tavern, which might be full of charm of its own, but does not offer a view outdoors.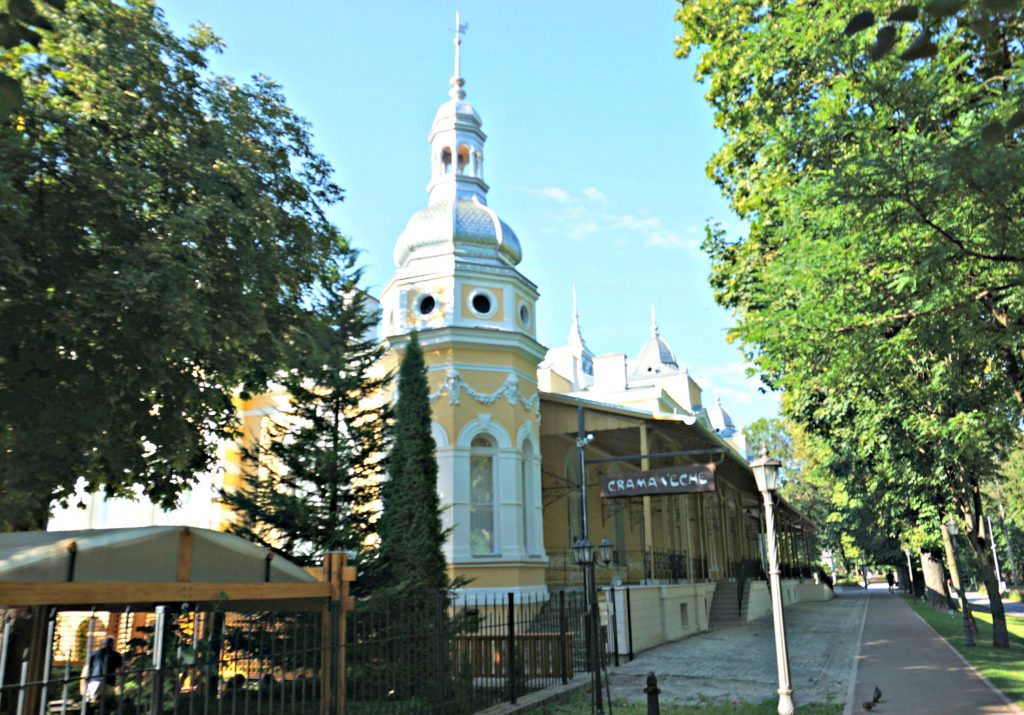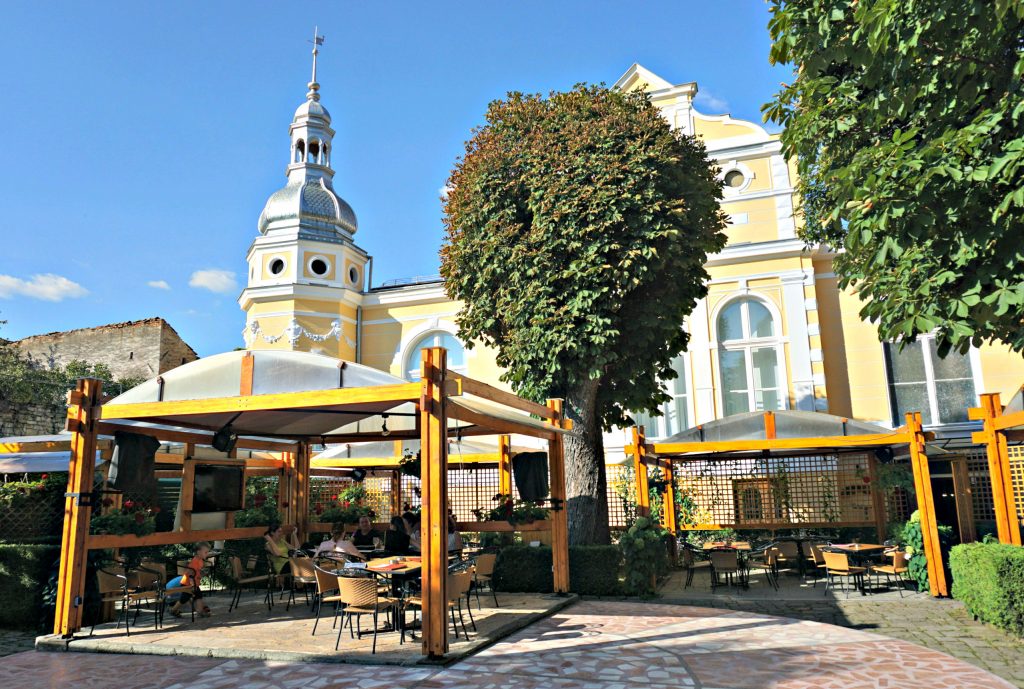 I made a reservation for later that evening for dinner. In the meantime I waited excitedly.
After such excited anticipation, I was very disappointed. I found it very difficult to find a main course that I liked that did not have pork. I had had pork earlier in the day and wanted to avoid it. In the end I ordered a small Greek salad as a starter and then Wiener Schnitzel for my main course. Wiener Schnitzel was one of the few dishes on a fairly large menu that seemed more or less regionally-appropriate at this restaurant. To my dismay, neither the Wiener Schnitzel nor my side of fries had much taste. I thought the food was average and unimpressive.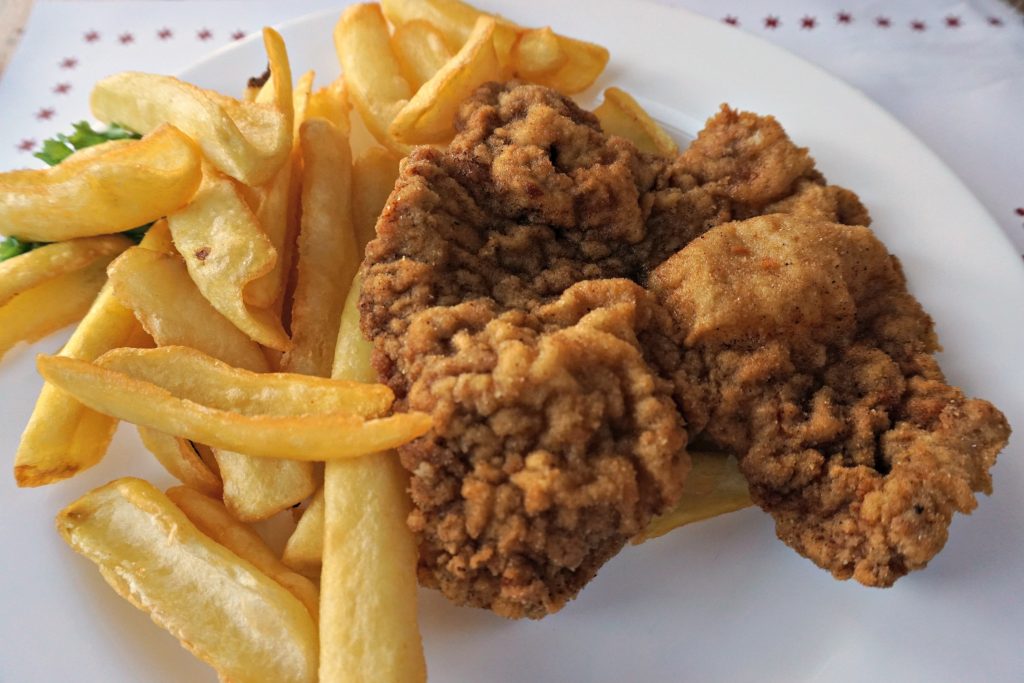 I was going to order a dessert, yet the choices were really not attractive. Ice creams, crepes or tiramisu. Really? No real regional or local choices (unless you count crepes as local).
The service at Crama Veche was quick and fairly friendly. I felt as if the server was rushing me through my meal while I was not in a hurry. It was the first time over the two months on my Journey to Greece that I felt as if the server, instead of the customer (me), was setting the rhythm of my meal. In other places, customers could stay as long as they wanted without any pressure to leave.
In the end, I'd say go to Crama Veche for the setting and atmosphere, but not the food. Go for a drink to enjoy the location and then go somewhere else to dine. Or go for your afternoon ice cream with the kids and then home for dinner.
Crama Veche is kid friendly, which is wonderful for families. It's a bit less pleasant, however, when kids are running around screaming in your ear as you dine.
Baia Mare
I was considering staying an extra night in Bistrita since it was such a relaxing town in the end. Taking a day off from driving in a place where I could leisurely enjoy the town and get some writing done seemed perfect to me. I decided, however, to continue to Baia Mare, only a couple hours drive away.
Baia Mare's few attractions are located in a small area in the old town. How much time can you really spend in two squares next to each other?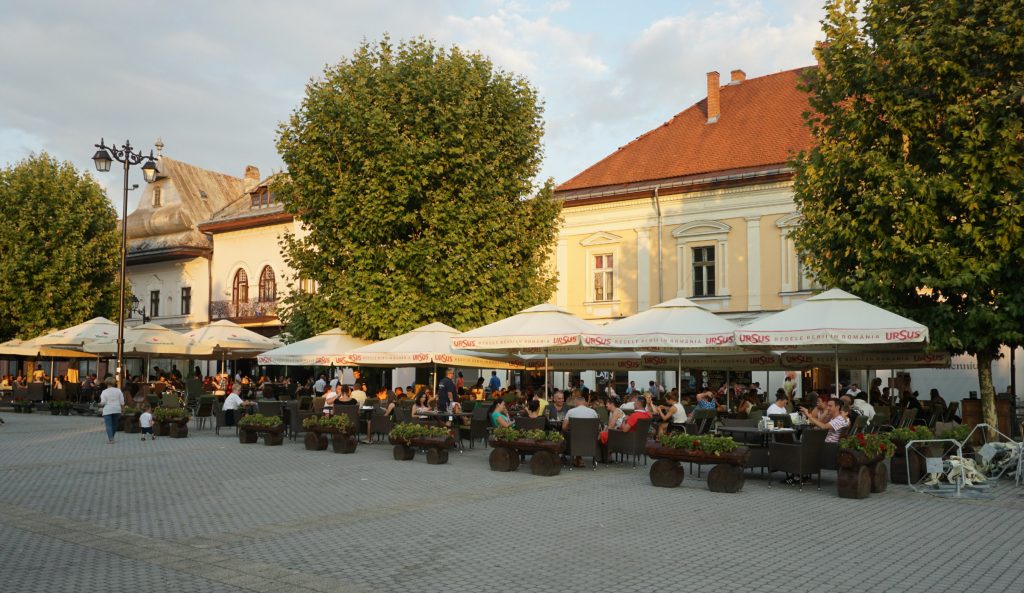 To be fair Baia Mare also has an outdoor Ethnographical Museum allowing visitors to wander around a model village to see how people lived in former times.
After getting my fill of the two main squares before and during lunch, I ventured to the park. Compared to Bistrita's municipal park, Baia Mare's municipal park offered little shade where I could sit and watch people go by. The park unfortunately was not nearly as pleasant as Bistrita's and offered almost no place to purchase a drink on a very hot summer day.
For dinner I returned to the town's main square and sat outside at a restaurant called Ignac in the corner of the square. Ignac serves traditional Romanian food and even has servers dressed in folk costumes. Despite the costumes being a bit kitsch, my bean soup with smoked pork was excellent. I'd definitely recommend Ignac, especially if you are looking for local food.
Oradea
Oradea is located on the Romanian border with Hungary. Oradea's old town is quite charming and in the process of much renovation. Like most other cities I visited, a river flows through the town, offering paths to ride bikes and walk. On a Sunday afternoon, Oradea was quite pleasant.
If you walk down Calea Republicii, the main pedestrian street in the center of Oradea, you will definitely notice Lactobar RetroBistro.
It has an original decor made up of various items of intrigue. An old car in the middle of its main dining room, a wall of beer bottles from around the world, and other fun items. Everywhere you look there is something that will catch your eye and curiosity.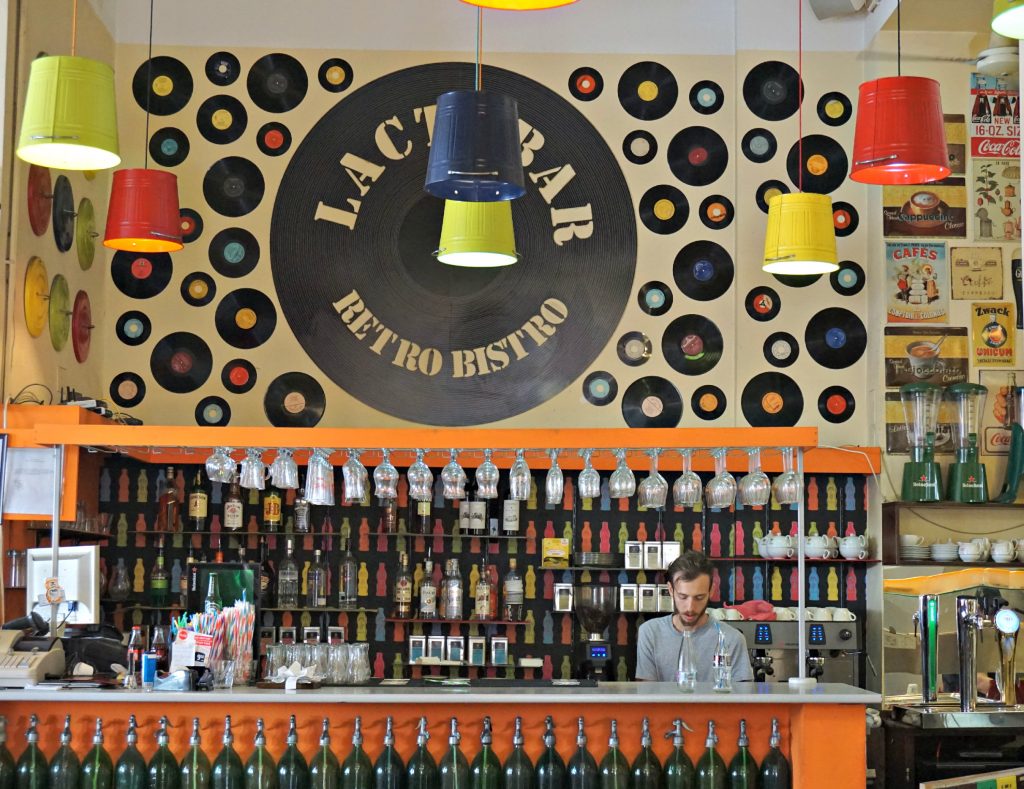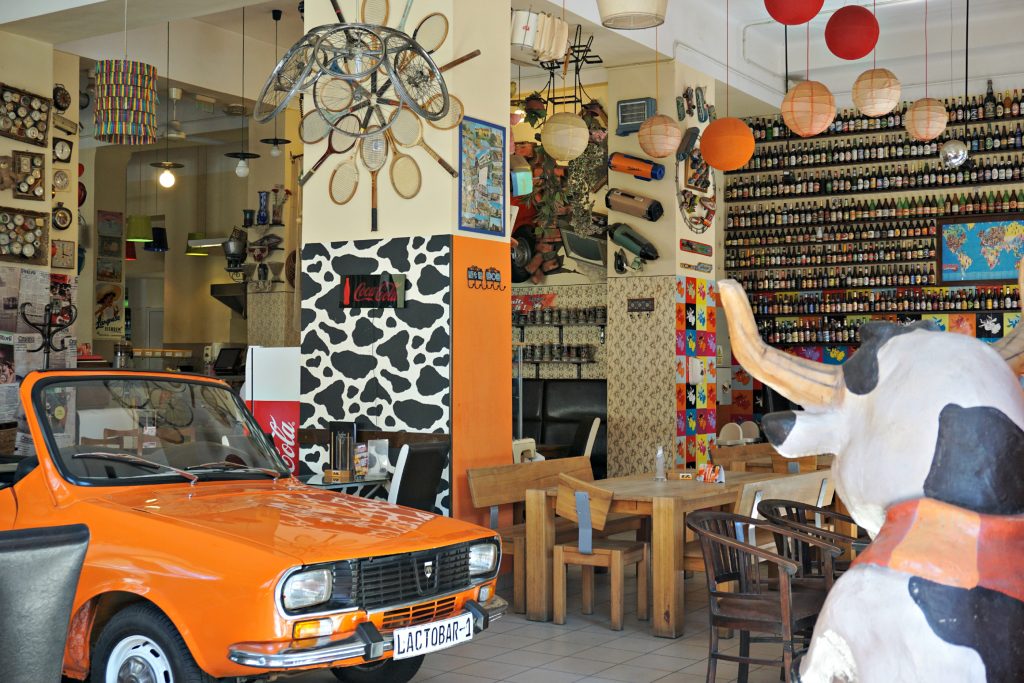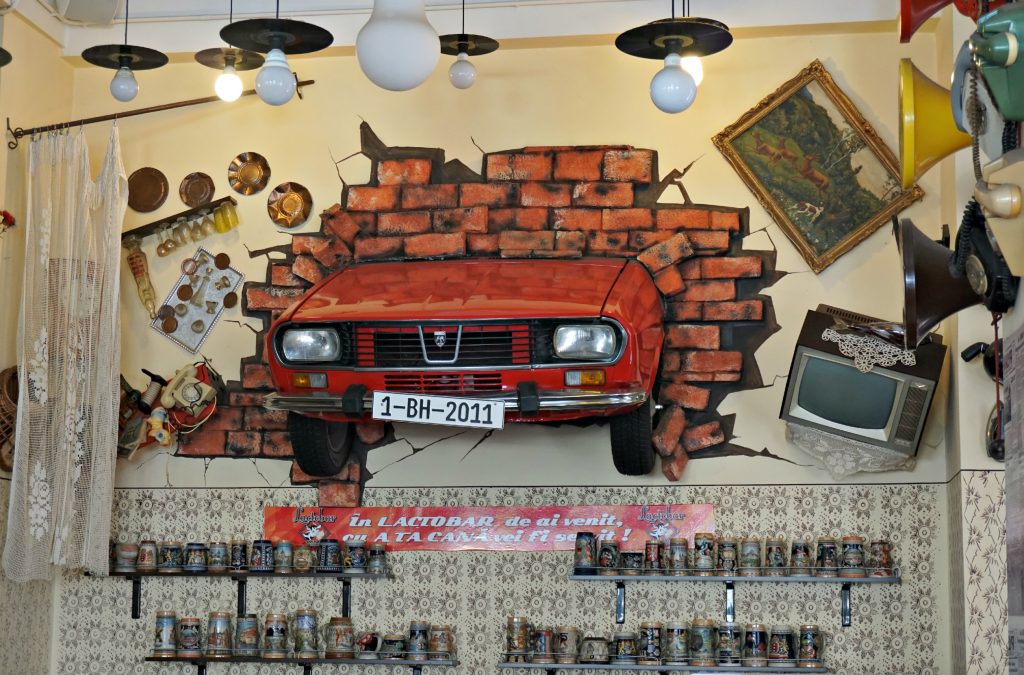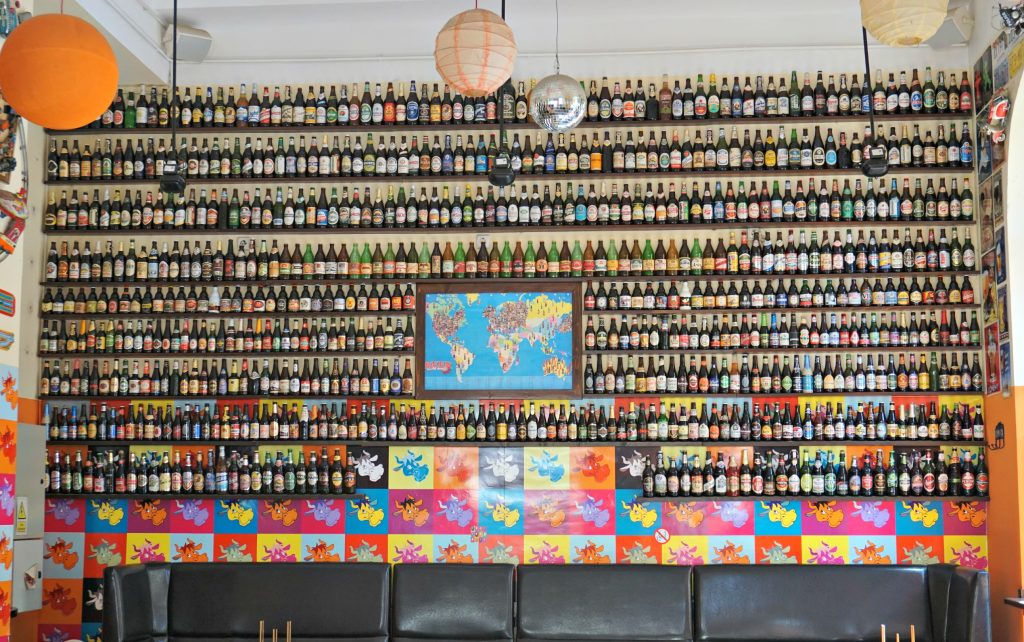 Unlike other places which hang memorabilia all over (such as Hard Rock Cafe), Lactobar RetroBistro does not feel dark, stuffy or overcrowded. The designer made sure sufficient space separates the unique objects, while natural light streams through the windows. It feels very spacious despite objects being everywhere.
The menu features mainly American diner-style food: burgers, pizza and other dishes that will generally please everyone. I enjoyed a pizza and lemonade. The food is good, but you'd come to Lactobar RetroBistro primarily for its decor. I loved dining leisurely in such a unique setting.
Saying Goodbye to Romania
After my early supper at Lactobar RetroBistro, I said farewell to Romania and crossed the border into Hungary. I was sad to leave Romania as I found it an easy and safe place to visit with awesome landscapes, in particular near or in the Carpathian Mountains, with good wholesome food and friendly people.
The prices in Romania are generally reasonable compared to western Europe. It would be hard for me to find reasons for you not to visit Romania. If you have some sense of adventure, appreciate nature and beautiful scenery, and tasty food, don't hesitate, start planning your trip to Romania.