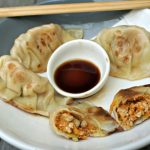 (Skip to Recipe)
What makes Vegan Pumpkin Dumplings a Fall Favorite?
A couple years ago when I started my Vegan Before 6:00 diet I was looking for new fun ways to prepare vegan main dishes.  Around that time I was practicing how to make homemade dim sum.  I kept trying new dim sum recipes so I'd get the techniques down.
As many of you know, I love pumpkin during the fall, especially in savory dishes.  So creating a new fall favorite with pumpkin put a smile on my face.  When a friend came over for lunch I prepared these Vegan Pumpkin Dumplings and instantly fell in love!
The filling is…
Read More