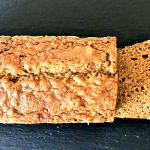 (Skip to Recipe)
What recipe makes my Pumpkin Bread a Fall Favorite?

My Faithful Pumpkin Bread Recipe
By now you know that I love pumpkin.  Making food with pumpkin is how I connect best with the season of autumn.   Every year tradition calls me to make pumpkin bread at least once.  My kids love it and are always asking me to make it.
I've been using the same faithful recipe for almost 30 years. Of course, I've tried other recipes, such as one calling for cream cheese to give the pumpkin bread more of a cheesecake finish. Another recipe suggested chopping up and dropping in som…
Read More