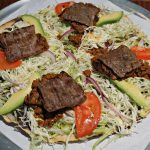 Why You Should Visit Tlayuda LA
A few weeks ago my son and I enjoyed a yummy Oaxacan supper at Tlayuda L.A. in East Hollywood (Los Angeles).   Recently I returned there for lunch with my brother.  He's an aficionado of Latino cuisine and had never been to Tlayuda LA.  He was excited to discover it.
Tlayuda LA enjoys one of the best ratings for Mexican food in our area.  More precisely Tlayuda LA's cuisine is primarily Oaxacan, thus automatically making it also Mexican and Latin American.  You will therefore find Tlayuda LA under listings for all three cuisines.
Tlayuda LA Restaurant
Location

Atmosphere

Food

Service

Price / Quality Ratio
Summary
Tlayuda LA in East Hollywood offers reasonably-priced tasty home-style Oaxacan food served with a smile in a cheerful atmosphere. The two sisters who run Tlayuda LA welcome customers with a smile and a friendly greeting. If you try this restaurant, you will surely return often.
* Read this …
Read More